Did you achieve your ambition?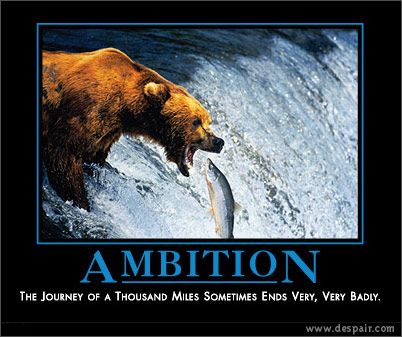 Malaysia
January 22, 2009 4:59pm CST
I guess all of us always had an ambition since young. when I was a teenager I had always wanted to be an architect. Becomeing a doctor is my secondary ambition. I didnt make it to architural school due to some financial problem but then I am getting my M.D. in medicine. Well it isn't bad at all turn out to be pretty facinating. and I love helping people. I guess my ambition is coming true soon. so How many of us here actually turn out to be what we wanted to be? Please share your experiences. Happy Mylotting! :)
3 responses

• Australia
23 Jan 09
I'm working towards my ambition, which is to be a published writer. it is taking a while, but that is only because I want my work to be as perfect as it will ever be. I write a lot, but my greatest work will be a novel of some sort, and I have a couple I am working on at the moment.

• India
23 Jan 09
I can say yes when it comes about career since I am working in an MNC company and satified with it but as you know this is life and life is a journey so now I have other destination and to gain those destnation I am again doing efforts thanks for sharing

• United States
23 Jan 09
I remember when I was young, about 6th grade all the way to my Senior year, I wanted to join the Air Force. I went all the way to the Recruiter's station, but my mom didn't go with me. I was only 17 and he said she could sign the papers later. For some reason I didn't sign them. I wonder how different life would have been if I would have joined. I do alright for myself. I can't complain. I have lived an interesting life. I always wanted to be my own boss, and I am still working on doing that successfully. Life can be really challenging. I am glad things worked out so well for you! It sounds like you are very happy!