Dollywood or Six Flags? What's your favorite Theme Park?

United States
November 9, 2006 9:01am CST
Which do you prefer to vist?Since I am in Tennessee I like and go to Dollywood probably 2-3x a year. I love to go during Christmas and visit all of the stores and see the lights. The kids really enjoy it. We also enjoy the Dolly Splash Country! What about you? Anytheme parks in your area?
1 response

• United States
9 Nov 06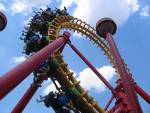 Never been to Dollywood. I've been going to King's Island north of Cincy, OH since I was a kid. It's one of the best coaster parks out there. Though I have to say unfortunately that the new trend is to ramp up all the coasters at higher speeds. This has made most of the rides uncomfortable now. They vibrate and shake and hurt. Had the same experience at Six Flags Kentucky Kingdom. Went to Universal Studios Orlando a couple of years ago, and that was just awesome! I recommend that!

• United States
10 Nov 06
Thanks for the comment. Alot of rollercoater rides are bumpy and can hurt. I know at Dollywood the Tennessee Tornado throws you around a lot.