Who is your best friend? Boy or Girl?

India
9 responses

• Philippines
28 Jan 09
if someone asked me bout who my best friend is, i really find a hard time answering coz i have 6-8 close friends and i dont know which of them will i consider the best coz they are the best in their own and different ways..regarding the gender, they are all girls..but i think its cool to have a guy best friend, but never had a chance to have one coz they'll end up having a crush on me(im assuming here,my goddess!!heheh) or me having a crush on them(that's certain at times), and i dont like it..

• India
29 Jan 09
Its good to have more friends. I'm happy with your confusion in picking with the best friend. Soon you will find a boy as your best, thick and close friend.... Thanks for sending friendship request. I accepted it. Lets start our friendship from today without an end.

• Philippines
2 Feb 09
sure!!and your welcome by the way.. its my pleasure to make friends OL coz with all honesty im a newbie here.. happy mylotting my friend!!

•
28 Jan 09
My best friend is boy. I am shy and self-abased, so few girls get along with me, but my best friend is outgoing that he keeps in touch with many girls. I have known some of them through my friend. Sometimes I feel sad, I want to be confidet like my friend, but it is difficult for me to change. For example, because of my tension, I made a fool of myself in a game today. If I am confident, I will avoid this. Now I regret what i did.

• India
29 Jan 09
Hi Sam. Don't bother about the past. Have friendship will all gender. Friendship with boys makes us easy to share our feelings. But friendship with girls makes the feelings sweeter. It is not wrong to have friendship with a girl. Have good and decent relationship with a girl. She won't refuse you as a friend. Also, don't introduce your girl friend to your boy friends who behave cheap... It will help you to maintain your friendship with the girls...

•
28 Jan 09
I am a girl and I have always been more closer with girls than the boys as friends. It is easier for me to share problems with girls and I think I can relate to girls rather than the boys. So, the closest pals in my life are my girl friends. I rarely have any close male friends. I am more close with my female friends.

• India
29 Jan 09
Hi dude. Usually many girls will have girls as their best friend because they can share their feelings to their own gender easily. You also belong to that category. I'm happy with it...

• India
28 Jan 09
I have two really good friends and don't know how among the two is closer to me. One is a girl and the other one is a boy.

• India
29 Jan 09
They may also be good friends to you like you are to them...

•
28 Jan 09
Well in a lot of ways my partner is my best friend. I share everything with him and we're incredibly close. Other than that, I'd say at the moment my best friend is a woman who used to be a man! I have the best of both worlds *lol*

• India
29 Jan 09
You are lucky to have such a partner. Keep going lol....

• Philippines
28 Jan 09
I have sets of best friend.I have my best friend in high school a boy and a girl.My college best friends are both boy and girls too.These kind of friends are my companion on my ups and down.I can share my happy moments and problems.this persons are the one who are always there for me no matter what happen.

• India
29 Jan 09
Good. You have friends in all stages. Keep Rocking...

• India
28 Jan 09
hi there,,, well my best friend is a gal and i share almost every smallest part of my life with her,,,,,and she also does the same with me

• India
29 Jan 09
You are lucky dude... Continue your friendship without an end....


• Philippines
30 Jan 09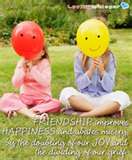 I have lots of friends, most of them are girls.. i do have lots of best friends too.. they make me happy, keeping secrets together, sharing happy and bad moments, we cry together if one of us has problem.. we planned things that makes us productive and can help our family as well..it's good to have good friends because they not only give us help but also they can give us shoulder to cry on..