Where is COSTA RICA?

India
7 responses


• India
21 Nov 06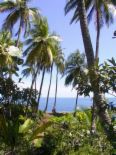 Costa Rica is in Central America Costa Rica is practically synonymous with ecotourism -- travel that incorporates education about the environment and promotes preservation of natural resources. The country has a large number of national parks and nature preserves that boast a rich array of birds, mammals, reptiles and rain-forest plants. The variety of birds, in particular, is astounding: Some 850 species are packed into a relatively small area. Approximately 25% of the country's land has been set aside in protected areas, earning Costa Rica a reputation as an environmentally sensitive country and leader in ecological conservation. However, nonprotected areas have not fared so well: During the past few decades, Costa Rica has had one of the highest rates of deforestation in the world and is coming to terms with the large resorts being built to serve the growing numbers of travelers, and a condominium construction boom that has been spawned in its wake. The country also excels in adventure sports, including surfing, mountain biking, river rafting, hiking and scuba diving. Those who prefer a less strenuous vacation can view several active volcanoes, take boat trips down jungle rivers and float through the rain-forest treetops in a choice of rain-forest aerial trams, or speed through the forest canopy on any of several dozen thrilling zipline systems

• United States
13 Nov 06

Costa Rica is in Central America. Nicaragua is on it's Northern Border and Panama is to it's South. It has both Pacific and Atlantic coasts. It is a very beautiful country with mountains and plenty of coastlines. There are rain forests and it's a surfer's paradise as well. I live in the neighboring country of Nicaragua and I friends and relatives in Costa Rica. I have some photos taken in Costa Rica under my profile. Take a look.