A one-in-a-million cat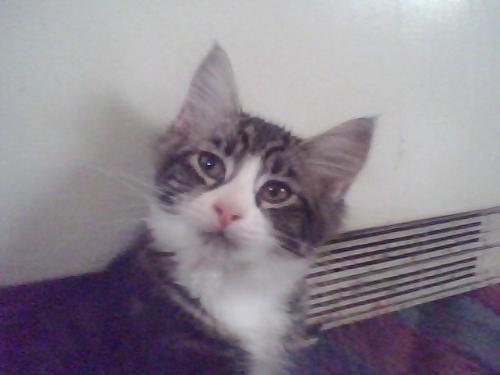 United States
January 31, 2009 9:32am CST
I just wanted to share a little about my kitten Bruce. He is only about 7 months old, but already I can tell he is going to be one of those pets that only comes around once in a lifetime! Last year we found a stray cat in the yard that was nothing but skin and bones so I started feeding her. Because I fed her I soon became her best friend and she wouldnt leave, and we soon discovered she was pregnant. So I took her in and watched her have 6 tiny little kittens. Well after awhile, I started to get quite attached to little Bruce and he quickly became my favorite. So I couldnt bring myself to part with him and so he is still here today. He sleeps with me every night, and any time I happen to sit down on the couch he immediately takes up position on my lap. Anytime I have another cat on my lap he has to squeeze inbetween them and me, he has jealousy issues. He will "hold hands" with me, which means he puts a paw on my hand and I rub the top of his foot with my thumb. He gives "kitty kisses" which means he rubs his cheek (and sometimes his teeth) across my nose. He is at war with my husband, each thinks the other gets too much of my attention! I have had some pretty wonderful cats in the past, but I think that being with this kitten from the day he was born has helped us to form a very stong bond. I wanted to share my story, have any of you experienced similar bonds with cats?
2 responses

• United States
20 Feb 09
What a cute cat!! Our cat, Morgana, (she's in my avatar) came to us when she was just a couple weeks old. The family that had her mama took the mama and the other kittens and moved away leaving Morgana alone. My niece brought her to me and she was so tiny she fit in the palm of my hand and hissed at everything and everyone. She soon settled down and her and I started bonding. These days she's a big cat, 21 pounds, (but completely healthy) and spoiled rotten. She sleeps on my legs, has to be in the room with Hubby and I all the time and if we are in seperate rooms she will sit in the hall where she can keep an eye on both of us. She will come and rub my leg when it's naptime and actually cries when I have to go out. She has a tuna addiction and since we had her declawed (we have a waterbed) she tends to nip...not hard just to let you know she's there LOL She's really a great cat and she's my second best friend. [b]**AT PEACE WITHIN** ~~STAND STRONG IN YOUR BELIEFS~~[/b]

• United States
20 Feb 09
She sounds like a really cool cat. I cant believe she was just left behind. I like that, she has to keep an eye on the two of you at all times, LOL, she has to keep you guys in line, huh? I think that having a kitten from such a young age really enhances the bond between you, not that you cant bond with an older cat, its just a deeper connection I think.

• United States
31 Jan 09
We also have a wonderful cat, I tell my husband he is the reincarnation of all the great cats we had in the past. He's black and talks a lot, he listens to us and most of the time does what we say, we can call him back when he goes to far into the field where a fox might get him. He sleeps at my husband's head at night and during the day is often in his lap or sitting on a chair right next to him. It is a delight to have this animal in our lives.

• United States
19 Feb 09
Cats sure have a way of working themselves into our hearts, dont they?