DARE TO SEAT (picture attached)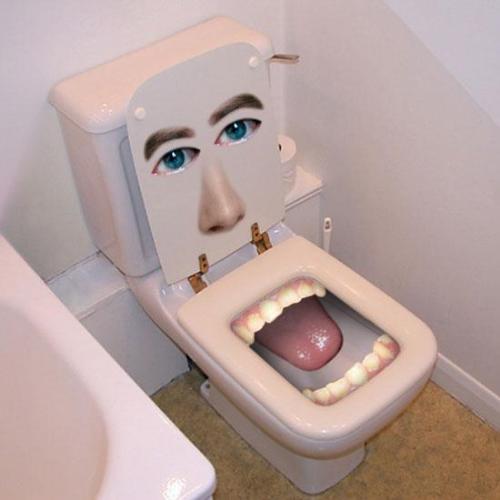 Philippines
January 31, 2009 4:41pm CST
if you are in a restorant or bar and you find that the toilet seat is like this. LADIES: do you still have the courage to sit down. and ofcourse guys does not use it sitting down but GUYS: if you need to go to the loo... would you be comfortable to do it in this kind of toilet seat? dare to seat? then respond. dont take it seriously lets us just have fun on responding. have a nice and cool day ahead of you
5 responses


• Philippines
2 Feb 09

har har har. yes it is spooky and i dont thin that i can make my thing if i see this. its like its going to bite my balls. har har har. thanks a lot for the response. this discussion di made my day and your response adds up to it. thanks again pal.

• Germany
1 Feb 09
hahaha i dont because just incase if he lick me!

.well hubby said,why not?its only in our head


• Philippines
4 Feb 09
this discussion is really funny. it never fails to make my day. yeah it will be a little chocking when that licks you. i am sure you will be screaming at the top of your lungs. i told my nephews that after they use that it will lick your butts they were really scared. thanks a lot for the response

• Philippines
1 Feb 09
well,i will still use the it even if it looks like that.then i will try to talk to the toilet.maybe it will answer lol..if the toilet bowl will answer,well then its better.i can have a little chat with that toilet bowl.and maybe it will give me some advice to my problems.

• Philippines
4 Feb 09
wow your response is way over the top... answers to your problem. wait

now i know. its like when filipinos say mangungumpisal but the term means going to the loo for a deposit. oh yes it might give you a great advice way to go.... your response did made me laugh. at first i didnt quite get it... silly me. now i understand. thanks a lot for the response

• United States
1 Feb 09
[i]HI se7, is this real? Gosh...that is scary! hahahaha! It will bother me for sure but when I have no option, will just go for it...I know it wont bite me at all! LOL![/i]




• Philippines
4 Feb 09
do you know that i even showed this to my nephews and they were laughing so hard. but when i told them that after they use it the tounge will be cleaning their butts. they stop laughing and i think they got scared on what i said. har har har but it was fun for me



• Philippines
4 Feb 09
now girls has worries too huh.... guys with their danglys and girls with their hineys har har har. i think we worry to much than just sitting down and giving it a try. har har har thank a lot for the response jen. if you seen one of these please tell me if you gave it a shot.