What kind of cloth diapers do you use? I need advice!

New Zealand
November 9, 2006 12:40pm CST
I am transitioning from disposable from cloth and I have old-fashioned cloth diapers but I need advice on what you use because I'm going to have to start buying and I don't know where to start!
7 responses

• United States
11 Jan 07
I prefer prefolds or fitteds and a cover. This is the cheapest route to go! You can look at www.mississippimama.biz to find great deals.

• United States
11 Jan 07
Wool covers rock! You would think they would be hot, but they breath very well. Also, you can not beat the idea that you rarely have to wash them!!!!!



• United States
7 Jan 07
The old-fashioned are great because they're cheap and somewhat simple. My favorite and the bumGenius one-size 2.0 pocket diaper though :). I just recently switched to cloth and cloth is just... ahhh so great!

• United States
7 Jan 07
I would say it depends on what your needs are. Do you want snaps or velcro? DO you want it to be a stay dry inner where the baby does not feel wet? Your baby's measurements are important as well. Some cloth diapers work better for skinnier babies and some work better for chubbier. Also, how often do you want to do laundry? How heavy of a wetter is your child? Do you mind doing extra steps in getting your diapers ready? Do you want to use separate covers or diapers that are all ready waterproof? Now that I'm sure I've overwhelmed you with questions, if you answer them I can help you out with what to start with! :)

• Calgary, Alberta
24 Nov 06
I usually use curity cloth diapers,but it sounds like you are from Britain,so I would suggest mothercare,They may even have curity,they also carry good soft brands of plastic pants. if you continue to have problems finding anything,please let me know,and I will see if I can help.

• United States
13 Nov 06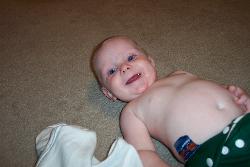 FuzziBunz are my favorite, I get them from http://www.fuzzibunzstore.com/ Also, you will find a wealth of information and a cloth diapering forum at www.mothering.com/discussion. There is nothing old fashioned about fuzzi bunz, they are as easy to use as disposable diapers. Check out the link above to see how they work.