Is Christmas stressful?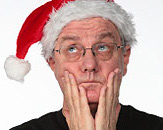 Latvia
February 6, 2009 9:01am CST
Two years ago I realized that waiting for Christmas doesn't give me that joy I got in early days. I was thinking of the reason and came to conclusion that it's all about marketing bubble and presents! You get this Christmas fever 2 months before actually celebrates which makes you tired once celebrates have came. So, I tried and learned from my resume and next Christmas which was on year 2008 I relaxed and ignored any advertisement which makes people run to shopping centers and buy expensive, useless presents. Instead, I made my apartment cosy, lighted it with many candles and made the right atmosphere. I didn't go crazy to buy cool presents, instead I thought of each person I want to give presents to, wrote a card and wrapped little sweet things which reminded me of this person. I made my Christmas dinner sweet and lovely, instead stressful and posh.
2 responses

• United States
6 Feb 09
HI. I feel the same when my daughters were young, I enjoyed it more. Now that I am alot older, I found myself getting all my grandchildren a certain about of presents, and for my 2 daughters they get money in a card. To me it tool alot of stress on the present shoping. It was tempting to see the sales after I got done the christmas shopping, but I put it in my head I am done no more.

• United States
6 Feb 09
This past Christmas was the first year I didn't experience a lot of stress and unenjoyment. Instead of stressingout over what gifts to give who, where to spend how much time, and who to do what with on what day . . . we just let everyone have their little hissy fits on their own time about the fact that we were going to have the holiday party at our house. We're a blended family with five kids, so we have a busy holiday schedule as it is when it comes to visitations and stuff like that - so we thought, "they can come to us, or do nothing at all." In the end, it worked out great.