Do you wear slippers?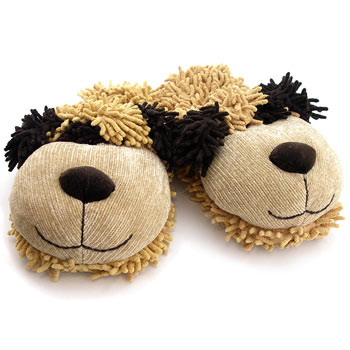 Latvia
February 6, 2009 9:26am CST
I like to wear slippers, they help to keep my socks clean and my feet warm. Right now I have really cute slippers which my brother's wife crocheted for me for my birthday. They are in red color, reminding of dwarf socks!
5 responses

• Australia
21 Apr 09
Yes I wear slipper everyday and I find it comfortable for my feet. I can easily move and my feet wont get hurt.

•
11 Feb 09
No, I don't wear slippers, just socks around the home which I change daily.

• Philippines
7 Feb 09
slippers are usually worn at home or in the beach, but yes, you can wear them anywhere. wearing slippers doesn't necessarily make you look unpolished. we have cute rubber slippers with gems embedded into them, you have slippers in different colors: metallic colors (gold, bronze, silver), feminine and whimsical (purple, spring green, bright peach), and so on. slippers can have little heels. they can look like clogs. even hollywood has taken to slippers, and all fashion websites will show you a number of stylish (albeit more expensive) slippers. there are a lot of slippers you can buy when on a budget without looking cheap. all you need is a nose for inexpensive style. slippers can be made of different materials: rubber, wood, synthetic materials, leather. the thing i love MOST about slippers is that they can make you look relaxed & effortless yet stylish, AND they are uber comfortable! if you think slippers are not appropriate for work, think again. they may not be allowed if your workplace allows closed shoes only, but if that's not the case, try donning silver heeled faux leather slippers. if you're not into metallics, try black heeled slippers. it's just a matter of carrying it well. :)

• China
7 Feb 09
I like wearing slippers at home, but I rarely wear them to walk outside. It looks slovenly that go out wearing slippers.

• United States
6 Feb 09
I do and bought a couple for me and my daughters. Got some on now with some of those soft soft socks I like to wear around the house. I prefer the socks, but my eldest let me know that I wear those soft socks to bed and you don't want a lot of germs on the bed, so she had a valid point and I follow her advice to wear slippers more.