Which was the best sunrise/ sunset you ever saw?

India
February 11, 2009 7:40am CST
Mine was right in the middle of it- I was on a plane and it was just starting to be dawn. Boy it was so beautiful, I couldnt get enough of it. I was all tired from working upto the last minute before my flight, then packing, I could have really used some sleep, but once I caught site of the sunrise, I had to stay up and savor it!
2 responses

• Philippines
17 Feb 09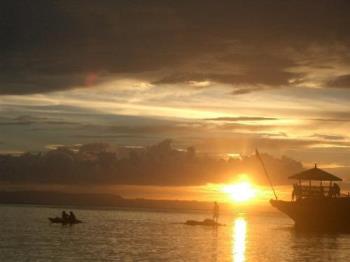 I love to see sunrise and sunset. I think that they are very beautiful to watch and perhaps document. I have seen great ones but have not been able to picture them. Well, I really don't know which are the best among the ones that I have seen. I do have a picture on one of the sunset that I was able to watch. This is in Camotes Island as I and my family were having a vacation.

• India
21 Feb 09
yes its sad when u see stuff u cant treasure in a photo forever, but at least feel happy that u get to see such beautiful sights huh? nice picture u have here anyway!

• Janesville, Wisconsin
12 Feb 09
The Best sunrise I ever saw was a ripple of black and fire orange clouds as the sunlight reflected on them and the land, It made the land and the cornfield both like like an ocean of fire... - DNatureofDTrain