gomezpeerzone

February 12, 2009 10:26am CST
Wanted To Know Wether gomezpeerzone dot com is a fake or any scam or they really pay u for utlizin some memory from ur pc
4 responses

• Japan
13 Feb 09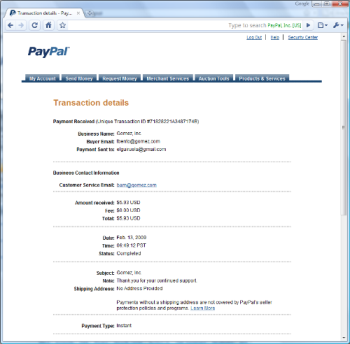 Here is a proof of payment for my January 2009 earnings. Do you want to see my December 2008 payment proof? Or my payment last October and November 2008? You can check my profile to see them.

Gomez is a real company which pays members running the peer. The only bad part is you need to have an active account first before you can get what you earned (supposedly).


• Philippines
28 Jul 09
At first, you account status in gomez is "pending" and it will depend on them how to evaluate to become active and only in active status will receive payment, right? According to them(gomez), there are things to consider how to become an active and I patiently did all, but still I'm in pending status account that's why I haven't receive any yet. Did you encounter being in pending?, kindly share what did you do to have an active account status there? Thanks!

• United States
1 Sep 09
Add me as a friend on MyLot. I have the same issue, but perhaps you have to fill in the mailing information on Gomez where it says "Set up a payment account"

• United States
12 Feb 09
Well, up to now, i have no idea whether they really pay. I've installed the software on my pc for over two weeks, and my account is still pending. I also asked the same question, and some mylotters told me they have got paid, but you need to be very patient.

• United States
12 Feb 09
I actually got paid before from them, but now I am still waiting for my payment for last month...anyway, the last time I got paid was a shock to me because I forgot all about the program and that it was running on my computer so I only noticed that I got paid from them through my email, I was also waiting for my account to be approved so I just gave up waiting and continued on with my other online things then one day I checked my mail and low and behold I had an email from paypal lol so that was awesome I didn't get much but it was from doing nothing anyway. Good luck to you