Do you believe horse shoes bring good luck?

United States
6 responses

• United States
12 Feb 09
hello moneymommy in the rented house that we used to live in, my hubby had two horseshoes hanging up like that in our house. i guess that the horseshoes brought us good luck because we were able to save our money and move out of a rented house into a house of our own now. and since that we have moved here, we have lived here almost six years, i haven't seen those two horseshoes anywhere. i guess that we lost our two horseshoes when we moved. but yes, to answer your question about do i have a good luck charm of any kind like that? yes i do, i carry a penny that i got at the mall around with me in my change purse at all times. when i go get to play bingo, i always place my good luck charm penny out in front of me where that i am sitting playing bingo. take care and have a beautiful afternoon.

• Brazil
12 Feb 09
Hi moneymommy. If you believe in something you can get miracles. Life is made by hope and faith. I don't have a good luck charm but I have some beliefs. For example: I always keep the money in my wallet with the face overturned for the out side of the wallet. After I started to do this I never more stay without any money. Another thing is I never put my handbag in the floor in any circumstance. Doing this I avoid my money to go down.

Sorry but I believe in those things and it work for me. Have a good day.

• United States
12 Feb 09
I don't really believe in good luck charms. I have never had one, although I do have items which I like to have with me, kind of like a security blanket. I think that people create their own luck, and if you have a good luck charm, it may cause luck just because you think it will. I do not think any object has an actual magical quality that brings luck, its all in the state of mind when you have the item.

• Philippines
21 Feb 12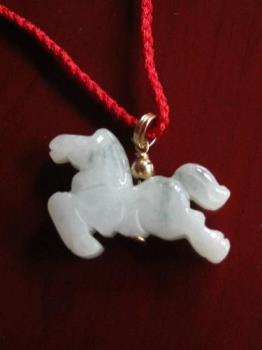 No dear, I don't believe horse shoe or even the horse or any object brings good luck at all. I don't rely on man made objects for good things to come into my life and neither do I put my trust on anything that can't even hear or understand what I am saying. I only put my trust in God and I only He will take care of everything about me for as long as I seek His righteousness first. Good luck charms do not have any power at all. These are just man-made things which are meant to deceive people in order to entice them to believe and buy so that business will remain good for those who manufacture these things.


• India
24 Mar 09
hello there, i haven't heard that "horse shoes" brings luck.....but yes people in different places believe in different lucky charms.

i do not keep any...basically, i don't believe in them. but hope you horse-shoe brings you good luck. have a nice day.


• United States
27 Feb 09
I don't have a good luck charm. I also don't know if horse shoes are good luck. I'd like to think things like that work but I'm not really sure.