Which housework do you hate the most?

Hong Kong
11 responses

• United States
15 Feb 09
Wow! i dislike doing it, too, in a very major way....


• Greenbrae, California
29 Sep 13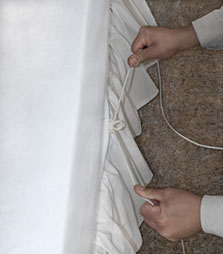 I use drawstring sheets and now my chore is easier and I know the sheets will stay put and not move because the drawstring will not allow any movement. Once it's tight that's the end of loose wrinkled sheets that get bunched up. It's much easier putting the sheet on because with the drawstring loose it's a breeze unlike elastic, which causes a fight and requires two people to put it on. With the sheet tight, there's no making the sheet every morning. Waking up means sliding out of bed, straightening out the top covers and that's it. http://www.drawstringsheet.com/info.htm

• United States
16 Feb 09
hello wondericequeen changing the bed linens doesn't bother me at all. i enjoy washing and drying and putting the things back on my bed around once every other week. it feels so good to climb into your bed when it is all clean like that. i wish i could afford to wash my dry my bed linens everyday of the week. but i hate to have to clean out the bathtub, it hurts my back so have to bend over to the other side of the tub like that and try to reach the wall to try to get it clean. so i would much rather change my bed linens anyday versus having to clean out the bathtub. lol take care and have a beautiful evening.

• United States
15 Feb 09
Oops! I didn't read the title of your post. My most hated household chores are cleaning toilet bowls

and sponge-mopping floors.


• Malaysia
15 Feb 09
Hello wondericequeen, I hate when it's time to clean the bathroom and toilet. I don't like to be soaked in the water for too long. Whenever I clean those areas, I love to use as much water as I could. I hate cutting the fish too. I always ask my husband to help me. So, he will cut and I will do other things first before I start cooking.

• Malaysia
15 Feb 09
I don't particularly like housework, but one task I detest very much is ironing. I don't mind the washing (machine) or folding clothes, but ironing is something I would postpone as far as possible - it's hot, uncomfortable and very frustrating work!

• Philippines
15 Feb 09
I really hate cleaning my room because I already know that my room will always be a mess after I clean it. LOL! It's really frustrating when you clean your room and after a few days, you will see it very messy again. Hehehehe... I also hate doing laundry when it is raining because I can not hang my wet clothes outside and I have to find places inside our house to hang it. Hehehehe...

• India
15 Feb 09
There was this time when I used to like doing household work, be it making the bed, arranging the living room. But after a certain point of time I got bored, more casual. Now I just let things pass by. I mean I just don't pay much attention to these small things. I think I got bored of it, lolz.

• United States
15 Feb 09
Yes, I don't like changing bed sheets too much either. Sometimes I get the sides mixed up. I dislike cleaning the bathrooms, especially the toilets.. But, I do love to clean.. It is just that I kind of hate to clean a toilet by hand. Toilet wand here I come!


• Philippines
15 Feb 09
What I hate the most is cleaning the kitchen because the walls are so sticky due to cooking oil spills! I would rather do the laundry because there is the washing machine that could help me than do the cleaning of the kitchen! Thanks!

• Romania
15 Feb 09
I hate to clean the kitchen, i don't know why, but i just hate it.