Is there anyone for me to be my friend?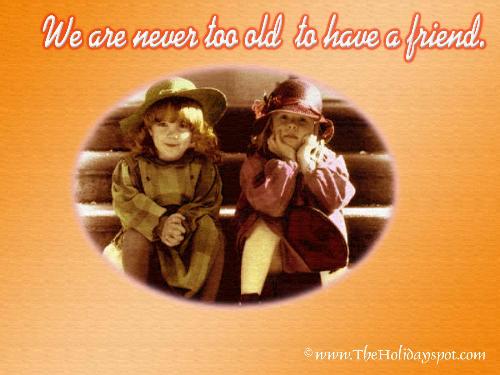 Pakistan
February 16, 2009 4:31am CST
I got a problem. I always try to find friend but they soon leave me. I can not be what they want me to be. It does not mean I'm a bad person. I'm myself a good friend. It's what people say about me. I try my level best to fulfill their expectations but the problem is that one can not keep a human happy all his life. I'm too upset these days because I do not have any friends these days. I need one for my life whether the friend is male or female but only a friend and nothing more than that... Could you guys me some tips how to keep friendship everlasting?
6 responses

• Canada
16 Feb 09
Being anything else but true to yourself and what you are is all anyone has a right to expect of you. Or for that matter ALL you can expect of them.Friendship is like anything else that is worthwhile- it takes time. Enjoy exploring new relationships with people but make sure that you also explore your relationship with yourself. It is just as important.

• Philippines
20 Feb 09
yes, in order to find that one real good friend, time is needed there. you will just find yourself drawn to a classmate, an officemate or a neighbor because you find so many common grounds. like you have the same favorite foods, the same habits, the same values, etc. then, you easily talk about anything on earth. always, there is a time that you can spare for each of you. the realtionship is effortless and warm and loving. it is as though you are with your favorite brother or sister. even sharing secrets becomes fun to do. finding that true friend can never be pushed hard. it takes time waiting for the person to barge into your life. for all you know, he/she is already around. just be sensitive enough in order to locate that person. enjoy life, my friend, you have a number of good friends here in mylot anyway.

• India
20 Feb 09
Hey,,i am also facing somewhat similar problem a yours..!! I used to have some friends almost a year ago with whom i used to spent all my time and have fun with them,,but i still dont know the reason why they dont have a single moment for me now..!! I have never disappointed them in any way,,yet they are apart from me as if i m a stranger..!!

• Spain
20 Feb 09
As others mya have confirmed - be yourself and don't try to be what you think others want. On the one hand with so many millions of poeple in the world there must be many potential friends out there - but also with everyone of those millions being an individual, the chance to find someone who becomes a long lasting special friend is also quite remote. Cheer up - tomorrow that friend for life might appear! ;)

• India
20 Feb 09
It is not that I am looking at your picture and telling this but if you really want a true friend then you can join me and at least we will remain friends on mylot. If possible on some other networking site too.

• Philippines
20 Feb 09
there is at least one true, good and real friend for you out there. you just might have not yet crossed paths. once you find that good friend, you will realize that keeping her/him is actually effortless. you will be most comfortable in the presence of each other. you share the same interests and thus will easily jibe as one picks a topic for conversation. there might be disagreements, but the disagreements will just be taken with a shrug of the shoulders soon after having dealt with them. so, don't worry so much. you will be able to find that friend. if i were you, i will ask from the Lord in prayer everynight that, that one true good friend He will give me very soon.

• United States
20 Feb 09
Then there not your true friends you dont have to be no body that you are not just be your self u should be liked for who you are thats what true friends are about if you need some one to talk to you can talk to me if you like