Does PSP do good or harm on children?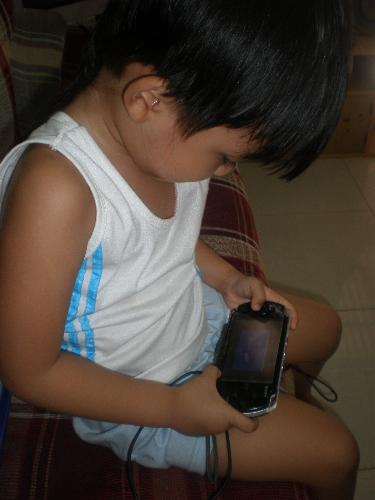 Philippines
February 17, 2009 12:23pm CST
I need to be enlightened in some sort of way regarding children becoming addicted with playing PSP. I have a 4 year old son, he's still not able to speak comprehensively as normal kids of his age do, but the ironic thing about him is that he's too smart when it comes to playing PSP. He can immediately learn the strategies and techniques on how to play a game even if it is just new to him. By just looking at how his dad or uncle play the game, he can immediately understand the game's purpose and ways to play it. I know it's not appropriate to let my child become too attached with this gadget but whenever he started to throw a fit, I have no choice but to give in. I even thought of why not try downloading educational games in his PSP, maybe that would help him to learn to talk eventually. Since he's already fascinated with PSP, maybe I can use it as a tool to provide him with speech lessons. I just don't know if this is feasible. I will really appreciate your opinions and suggestions especially those who also have the same experience as I am.
2 responses

• Philippines
1 Mar 09
Whenever your son plays that handheld, make him sit straight so that his neck would not be strained due to conitnuous playing for long periods of time. There are a lot of puzzle games around for the PSP and there is even a spanich coach game wherein your son could learn how to speak both english and spanish. Just don't let him play games that have mature content. Even though they say that its just a game and its not real, what children see in video games can still be enacted in real life. Go to gamespot.com or any other gaming sites so that you could know which games would be best for your son by the ratings of the games available. Of course, you did say that he is rathe smart so, even if he plays violent games like Grand Theft or Man Hunt, he'll still be nice and obedient in real life. Why not make a deal with him, like every time he does something you want, you would let him play that PSP? If that doesn't work, try to resist to givein whenever he throws a fit since, if he gets use to it, what more if he grows more and able to speak him mind instead of following his parents. Best of luck~!

• United States
19 Feb 09
Its not the game itself that is harmful, it is the games that you allow your son to play. I feel that it can be used as a wonderful tool for your son with the appropriate games and parental guidance. Just monitor the games he plays and you both should be fine.