Have you ever got so angry and thought the dreaded thought?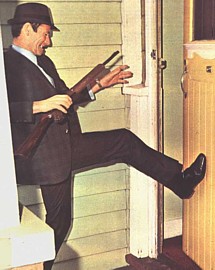 February 17, 2009 1:58pm CST
Have you ever been so upset or so annoyed with someone that the thought of murder crossed your mind? Don't say no! people do it! Would you ever commit a murder if you knew 100% you would not get caught? And would it be a annoying relative? your spouse? your boss? or just that git that is rubbish at karaoke?
3 responses

• United States
22 Apr 09
Can't say that it never crossed my mind a person shouldn't breath anymore, but being the person responsible. I don't think so. Not that it's so complicated with the law dear X, but I think it would haunt me and maybe that's that inner voice we all have that says don't even. Ask me again after the husband's ex-wife calls, the answer might change - ROFLMAO!


• India
17 Feb 09
I am a very much peace loving guy and such thinkings never come to me. I have respect over the life of everyone. Not only human beings but also the other animals as well as small insects. I feel the greatest regret even when I mistakenly kill an insect because I have no right to seize the life of others. Every life is important. Even when a mosquito bites me, I just scare it away, because they can't live biting us but we can survive such bites.