Any Fishermen Out There?!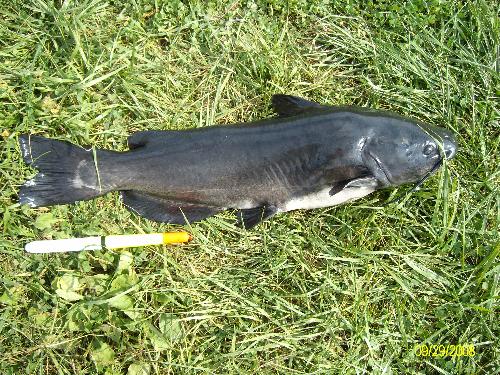 United States
February 24, 2009 3:12pm CST
I've loved fishing for as long as I can remember, specifically for channel cats. Last year I had unusually good luck. We tried a different approach, so instead of fishing on bottom, we used twelve inch slip floats. Instead of liver or shrimp, we caught small bluegill and used them for bait. We turned several nice 8-10 pound channel back all summer. The real fun was landing the big boys! The first bigger channel that I caught measured 32 inches long (we were never able to weigh him). I had never caught anything that big, nor did I ever imagine that I would. Then after a heavy rain, my partner caught one weighing 18 pounds. In that same day, on the south end of the lake, my mom caught one weighing 14 pounds. But the most exciting catch was a 22 pound channel! I'm still like 14 pounds or so from the record fish, but there's not much more exciting than bringing in a cat that big! I didn't think that I was ever going to get him in....it was an endurance battle to see who would wear out sooner.

I had a blast though! Does anyone else have a fishing story? If so, please share!
3 responses

• United States
25 Feb 09
I'm not really a fisher. I don't own a boat, or no anyone that does, and I don't have a fishing pole. But I have been fishing several times, and I really like it alot. Hang'n with friends. Its very relaxing, and Its nice when you catch something.

• United States
25 Feb 09
I enjoy being outdoors...I find most outdoor activities, especially fishing, very relaxing. Thanks for your response.

• United States
24 Feb 09
Here in Western Arkansas my brother and I used to us "Limb Lines" at night on the lakes and creeks. We used different baits but probably the best was the snub shiners that came out of the creek. We caught some nice channel and blue cat. A few flat head cat but not all that many of them unless we were fishing a creek down close to the river. I have spent many an hour fishing and have always enjoyed it very much. I also love to catch crappy with a pole. I have also caught a lot of trout up in Northern Arkansas and I love to eat them. They are my favorite fish to eat. Good fighters to when you catch one. If you can get around to do it I say fish every chance you get. Art

• United States
24 Feb 09
I'm gonna miss out on a lot of fishing this summer because I just had a baby. We'll still go when the weather isn't overly hot, that way we can take her and the camper. I got in as much fishing as I could last year due to the fact that I wasn't going to be able to that much this year.

• Canada
24 Feb 09
Oh Amber, I absolutely love to fish..I have been fishing since I was very young. I used to take our small aluminum boat and take my brother out fishing when i was 11 years old. We would troll the river for hours and stop in spots that looked like a good spot. We used worms, lures, bacon. corn...I caught tons of fish when i was younger. My greatest fishing trip was out on the ocean in a cape islander, decked over. My first trip out so far in the sea.We caught tons of mackerel hand lining and when we pulled up the troll, to my amazement there was a halibut that weighed in at 155 pounds....The sea got very rought that day and all I could see was walls of water. THey looked as though they were coming at us and there was no land on the horizon anywhere, only these walls of water. It was amazing and scarey at the same time and I now have a renewed admiration for deep sea fishermen. That was the biggest halibut caught that summer.

• United States
24 Feb 09
I've never been fishing in the ocean. I've never been to an ocean at all actually. Wow, 155 pounds! I bet you were super excited. Me and boats don't get along very well (I get sea sick), so I would have been a nervous wreck out there with the rough conditions. I'll stick with my small lakes and fishing from the bank.

Thanks for responding!