What do you do when YOU are bored?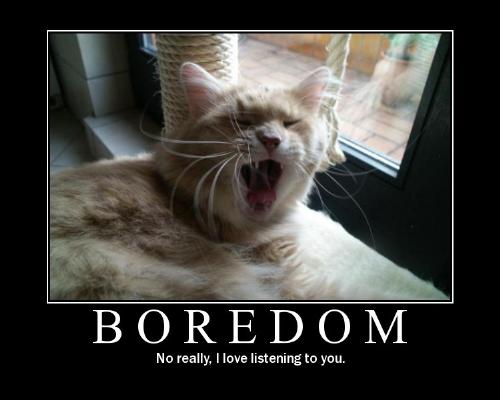 Canada
March 3, 2009 3:49pm CST
I get bored almost everyday, especially when I have no work to do. I tend to watch a lot of TV but I also like listening to music. What do you do when you are bored? If you listen to music, what kind of music are you listening to? or what shows on TV are you watching? Thank you!
5 responses

• Canada
4 Mar 09
i usually mylot when i am bored, and i'll also watch some of the shows ive recorded on my DVR from the night before. some of the shows i watch are: The Dog Whisperer, Desperate Housewives, House, Grey's Anatomy, 2 and a Half Men to name a few LOL there are plenty more to go along with those mentioned


• United States
3 Mar 09
I've been bored a lot lately. It's too cold outside even tho it's Florida. When I'm bored sometimes I play games online. But mostly I just try to find something on TV and watch that. I watch a lot of News like FOX news channel and I try to find a movie.

• Canada
3 Mar 09
I would some times read magazines. I have subscribed to three magazines, and they keep me busy too. Besides, I like listening music, and my favorites are classical music, Strauss, Chopin, Beethoven, and also classical music of different countries and cultures.

• United States
3 Mar 09
I mylot when I am bored. or I read. I might even clean but then I would realy have to be bored.