Would you Ever own a Pit Bull?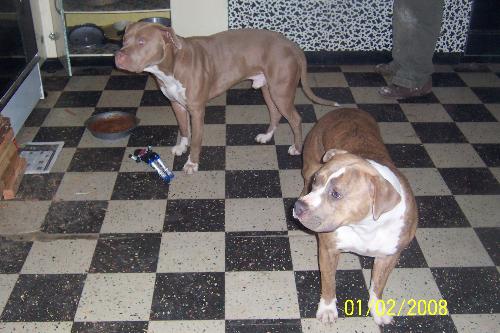 United States
March 4, 2009 7:43pm CST
I love Pit Bulls and have had a few of them. When i was pregnant with my son we got him a pure blood registered pit bull we named Niko, he was awsome and his daddy is a weight pulling champion. Niko was the biggest love you ever saw, he was stolen from my home when he was nearly a year old. We then got a female pure blood we called Nika, another love, she could never hurt a fly, while we had her we got a third pure blood named Kane, he was rad. Kane liked to escape and after going threw a window we gave him back to his old owner. Nika and our other dog bocephus (mutt) had 7 pups, we kept one. Nika and her pup latter died of parvo they picked up at a clinic. So even though my history with Pit Bulls has always lead to heart ache, I still love them, respect them and will eventually have another. In my profile I have pictures of all my dogs but Niko (none on my new computer)he was black and white and a head that was almost 10 inches wide.
1 response

• United States
5 Mar 09
At the moment, I have four adults: Jake, Meisha, Rottie, and Bucky...and 12 puppies...that I am right now trying to sell. Yes, you read that correctly. I have a total of 16 Pits. They are all registered. Rottie and Bucky are from Jake and Meisha's first litter. The pups are their second. No more puppies for me. LOL. But I love all of them. The only problem I have is other people giving me grief about them. We all know that the breed has a bad rep. But if you raise them right, they will be the most wonderful dog you have ever had. (You already know that, though.)

• United States
5 Mar 09
I could not imagine having 16 pits at one time especially with 12 of them being pups. I bet they are a hand full and fun. Sorry that others give you grief over them, it is only because they do not understand the breed and the beauty to them. I am going to open a kennel and my main focus is going to be pit bulls and helping people to understand they are gifts not enemies, to familiarize people with them, rehabilitate those who need it and so forth. Well best of luck to you and your clan. LOL