my kids and me with chucky and tiffany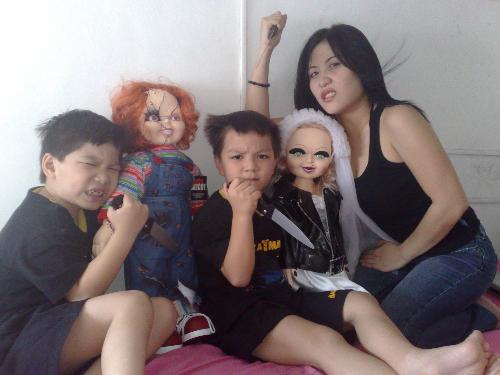 Philippines
March 5, 2009 4:35am CST
here's a picture of my kids and me with chucky and tiffany.chucky and tiffany are my favorite dolls.they are one of my collections too.these dolls are expensive but i really love to have them.at first,my kids are really afraid of them.i always tell them that if they will not behave properly,chucky and tiffany will get them.then two days ago,ive decided to take pictures with my kids,chucky and tiffany.but my kids are a bit scared.they ask me what if these dolls will move ha ha.i told my kids that chucky and tiffany would like to have pictures with them thats why my kids said ok mommy,lets take pictures with chucky and tiffany.as you can see,my kids are holding knife.those knives belongs to chucky and tiffany.im also holding a knife,but that was a real knife bwa ha ha.i told my kids to act in the camera.thats why their faces are like that.i still dont have glen doll.glen is chucky and tiffany's kid in the movie seed of chucky.i also have dvd collections of chucky's movie.child's play one and two,bride of chucky and seed of chucky.i can't wait to have glen doll so my doll collection will be complete.
1 response

• Philippines
7 Mar 09
You really like those freak dolls ha!ha!ha!.For me,I won't spend my hard earned money for that.But I find your picture cute.Please don't get angry,this is only a cute notice.One of your boys looks like chucky he!he!he!.It's ok to buy those kind of things but you have to save for your family also.Are you a collector,what else is your collection?.Me,I collect home decors because I like to decorate our house.Hope to heard from you soon.

• Philippines
7 Mar 09
yes i really like this freaky dolls and im willing to spend money just to have them.and yes my kid looks like chucky doll.your not the only one who noticed that.especially when my kid is still a baby he really looks like chucky.maybe its because when im still pregnant with my son,i always watch chucky's movie.i also collect shrek items.i also have dragon ball z action figures.i also collect many kinds of stuff toys.