Do You have a special cleaningday?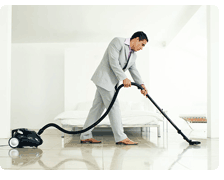 Sweden
March 5, 2009 10:17pm CST
Cleaning the house, how does it sounds in Your ears. In mine it sounds boring. However, It is a need. So today, it is friday. When I was a little girl, My mother always had her fridays bothered with cleaning. So for me, I feel fridays are the cleaning day. However, if I do not feel doing it, then I do not. I might feel a nother day is better. I do not feel for cleaning at all, to be true. But it is needed and today, this friday I just have to do it. Do I feel for it, well, some part of me say yes, and another part say usch, boring. But my self diciplin say it must be done. So, when my son has gone for school, I will do it.

So do you have a specifik day for cleaing, or is it something you do on a daily bases.

Happy friday,

5 responses

• Malaysia
7 Mar 09
We have a small apartment so I don't think there' much cleaning except that my wife mops the floor countless times a day? Haha

She can't stand watching all the dropped hair or anything like dirt & stuff on the floor. And yes, the bathrooms as well, when she sees the tiles are slightly dirty then she clean it immediately. She says it's always easier to maintain when it's a little dirty & only a little cleaning is to be done compared to when it's piled up. I on the other hand, I'd just keep my stuff tidy but I catch myself piling up stuff in corners which is a very bad habit. When I'm sick & tired of looking at the pile, I'l just clear off everything but basically it's more of a "tidy" pile if you get what I mean, but it can still be an eye sore, haha


• Sweden
7 Mar 09

I wonder if two adults can make a mess in a small appartment. I my self does only stay in my bedroom and online most of the time, that way I do not mess much up, however, my son in his late teen has a habbit of mess things up around him. However, he can clean very god, and when he feel like it do it in a god maner. That make me happy



• India
9 Mar 09
Well weekends and specifically sundays are the day when one is at complete ease and those are days one can use as cleaning days.But it all depends on the individual and the circumstances.

• Sweden
10 Mar 09
Yes, circumstances can be that thing that keep you away from cleaning, or doing other things in your household. You never know what the day bring when You waking up. However, I try to sceduel my cleaning and to get rid of it as fast as I can, since I feel cleaning are a bit boring.


• India
10 Mar 09
Yes the cleanings are a lot boring but a dire necessity.You just can't avoid them.Do it yourself or hire someone to do it for you and in that case be ready pay for it.

• Sweden
13 Mar 09
Today, I had to make atleast some cleaning, my cousin I have not seen for 6 years came to visit me today. I just had to do some god so It was not to bad. My sister asked Me if I had stopped sleeping on the sofa. Since she asked me online earlier this morning how I did work this weekend, I understood that they were turning up sometime during the day. So I did have to clean the two bathrooms, make some vacuum-cleaning and put away my sleepingpillow and blanket I use when I watc the TV....

I have a bad habbit to fall a sleep on the sofa every night, and so I do not freeze when I lie there and watch my movies and fall a sleep they are always handed.

Anyways, my son said to my sister and cousin, you should come more often.


• Canada
9 Mar 09
I clean houses every day and I clean 4 to 6 houses every day. I am self employed and my daughter and I work together and we clean for money. We do good with it too. We both are making a very good living with it. So when it comes to my own home I clean often. You see, it is a lot easier to clean a lot of little jobs each day then it is to clean the whole house in one day. But then it also depends on how good of a job it is you are doing. When we clean houses, and our own, we wipe door frames and window ledges and frames and we dust all the pictures on the walls as well as all the regular stuff. We windex all pictures on the walls, that have glass on them. We windex all windows in the areas that people spend lots of time in. Like kitchens and on doors and such. Not in bedrooms. But as far as vacuuming, I usually do it on Saturdays or Sundays. It all depends on if I spend the day, on Saturday, out shopping, like we did yesterday. So then on sunday, today, I did the vacuuming. Alrighty then, talk to you later my friend, Have a good mylotting day, Chris


• Sweden
9 Mar 09
Yesterday when I open one of my cupboard in the kitchen, two of my porcelain basins fell down on the floor and breake. I had to use the vacuuming so none of me or my son would get hurt. I was really carefull, even though, my son was a little bit injured but this time he was OK. There was a tniy little thing in his foot. Anyhow, I got the kitchen floor vacumed.I must be honest. I use it once a week only. Should use more often.


• United States
7 Mar 09
I pick up every day, however, mopping and the "bigger" cleaning I do whenever my day off is (usually on Monday).

• Sweden
7 Mar 09
Hej gdesjardin, welcome to mylot

Yes, keep order on a daily bases and keep the bigger cleaning up for one day a week is a god way. You alse have your big cleaning day a easier and faster. You can make that day a short cleaning day, and have more time for funnier things to do.


• Ireland
6 Mar 09
Cleaning is something that I feel I have to do everyday. I do it in the mornings after kids finished breakfast. If I leave it to just one day to do it all then it just builds up, and then I dont want to do it. I feel better when I have done it every day. :-)

• Sweden
7 Mar 09
Hey elemental69, cleaning is on my list of a must do thing every day. Just like You, I try to pick up and keep order, but when it comes to the big issues of cleaning I have one day a week. But since you keep order on a daily bases, You have rather easy cleaning to do.