Tomorrow is Veterans Day! Will you be honoring someone special?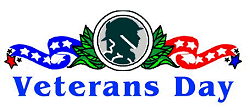 United States
November 10, 2006 11:08am CST
Veteran's Day is November 11th in the USA. It's a time to honor those who serve in the US military, who help safeguard peace and freedom in our country. We also remember veterans, who in past years have served their country, both in times of war and in peace. My salute is to my father "Waldo" who served during World War II. He served with the Army Engineers and helped build the Alaskan Highway. During his service, he was also in Australia and the Philippines. I am so very proud of my father...may he look down from Heaven and know my heart.
No responses