thoughts about not going

United States
March 17, 2009 3:36pm CST
my daughter that lives in calif would like to have me come down in may and see my grand child i have never seen she is not a year old yet. i have three boys that are six years old at home and live very far away. i dont think i will be able to afford for the boys to go with me. i do not want them to be alone with thier dad for very long because they end up crying alot or geting hurt .they just will not get along for that long not even 2 days . i would feel really bad if they were sad and have to put up with mean behavier while i am gone so i am thinking about not going. do you think this is the rite choice?what would you do?
3 responses

• India
21 Mar 09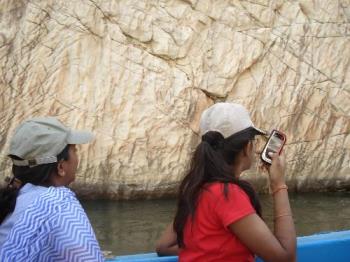 Hello my friend deedeehall Ji,
Being an Indian woman, I am always more interested in my "interest" than my Capitol money. As per this theory, I would abide by social norms and visit at laest once to my grand-child. This is an social and family event. There are certain things can never be avoided. Your daughter will feel that you are worried about her. Also, mothers always love their children first than any body else. May God bless You and have good day.


• United States
22 Mar 09
i know i will always feel bad if i do not go and i know she would say it is ok but i dont think she would really mean that.i just relly dont think i could leave my boys here in not so good of care and the cost is so high to bring them. i really wish i could get some kind of discount. take care and god bless you.

• India
28 Mar 09
Hello my friend deedeehall Ji,
So nice for your comments. But I think, your daughter should also feel similar way taht you are interested to visit her, but forced due to paucity of funds. May god bless you and have a great time.


• United States
28 Mar 09
i am so glad you have said this . because when she first contacted me she thought i would not want to have any thing to do with her.she lives in calif and i have already told her i would never live in calif with my three boys .she said she needs to stay there for her job .so i am not sure what to think or feel.


•
18 Mar 09
It is easy send your daughter the fare to come to you.I would not be tempeted to leave the boys in such circumstances or save up for a bit longer.If you leave them with him all you will do is worry it is a shame you don't have a friend you could leave the boys with ,but it will have to be a very good friend to take on three boys for a weekend.x

• United States
19 Mar 09
yes suzy i agree and she did come down on business a while ago so we did not get to see each other much and the grand baby was not with her. i know some how leaving the boys with thier dad just does not set well with me. i thought people got discounts on tickets for kids but from what i could tell they are the same price as adult tickets.i will have to work harder or think of something.

•
19 Mar 09
In England our kids don't pay on public transport till they are four then it is half price until they are sixteen it must be so hard for you but bear with it your boys must come first it is such a shame you have not got the support you should have thinking about you love suzzy.xxxxx

• United States
22 Mar 09
suzzy thanks for your thoughts .yes things are harder then what they should be. but i have learned to be very strong and able to do just about any thing on my own of course every thing must in clude my boys. but that is ok .that is wild that children ride for half price after the age of 4 i dont think that will happen here. i really wish it would and telling them i have triplets will not get me a discount. oh well i will just have to work it all out. thanks so much for your coment.

• United States
17 Mar 09
I would go and see the grandbaby. Your husband is capable of taking care of the boys and if they get hurt he can take them to the doctor also. It would be good for them to have to survive without you so that you can have a short break. I think that you would be surprised at how well they will actually fair. My mother in law recently found herself in a similar position. She needed to go take care of her mom in CA becasue she was going to have surgery. She had to leave the grandchildren that she is raising with their grandfather and dad. The kids did fine and the two men learned a valuble lesson: stop taking her for granted. I am not sure that you are being taken for granted but I am pretty sure you own a cell phone and they could always call you. Go and have fun. Who knows when you will get the chance to see them again.

• United States
17 Mar 09
thanks i think about this all the time and yes my husband does take me for granted big time. he just does not want to do to much and he will be hard to be around if he has to take care of the kids. i dont want them to have to put up with his moody ways if he has to be alone with them.i sure wish they could go along i would not feel as bad. they probabley need a break them selfs.

• United States
17 Mar 09
It will not hurt any of them to be without you. Your husband my be grumpy and moody but this is not his first rodeo when it comes to kids, besides all that he can get happy in the same pants he got mad in. Have a great day.

• United States
19 Mar 09
yes that would be my thought. i just know how i feel when he is around acting like that it can really get a person down.i would hate for my kids to have to deal with that.