Do you think that skipping breakfast detrimental health?

China
7 responses

• India
19 Mar 09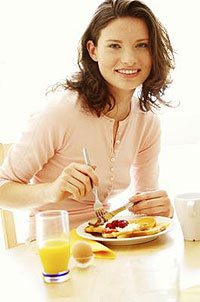 Hi, Skipping breakfast & Poor Health are hand & gloves,always! Breakfast taking infact set the tone for the day.Do better in day work. Eating breakfast regularly,induce weight loss. U may not get those braekfast foods again,throughout 24 hrs.

• China
18 Mar 09
Everyday I get up at 6:45 and eat at about 7:00. The food is done at last night. If I don't have breakfast I'll feel bad in the morning and I believe this is harmful to health. I know most officers do not have breakfast for they'll be late for work. Why not get up a lillte earlier?

• Pakistan
18 Mar 09
Yea i do take my breakfast everyday and trying to keep my stomach full so i should work in regular intervals. I request those parents who has kids so that they should give regualr breakfast everyday becuase kids bones are in the growing stage so to keep them healthy and fresh in the day time parents should insist thier kids to take regular breakfast.

• Australia
18 Mar 09
I never used to eat breakfast but I do now ever since someone explained to me that the reason it is the main meal of the day is because you have already been sleeping for say about 8 hours without any nourishment and it is really bad to then start off doing a days work with nothing in your stomach, sounds sensible to me...

• United States
18 Mar 09
No, I don't eat breakfast everyday, although I hear that it's better if you do. I think that a lot of people who skip breakfast end up doing a lot of snacking, or overeating at lunchtime. I think this is why breakfast is recommended. Also, it of course gives you energy to start the day. I should probably start being better about eating breakfast on a regular basis...

• China
20 Mar 09
I have breakfast everyday basically,of couse it is good to the body. The harm is obvious if you do not eat breakfast,the first you will lose the spirt in the morning with the empty stomach and the second if you do not eat breakfast you must eat much food in lunch,it is harmful to the stomach and biliary.

• United States
5 Apr 09
I think breakfast is the most important meal of the day. I think it is better to eat breakfast then not. It gives you energy to start out your day.