SHOES are a girls bestfriend?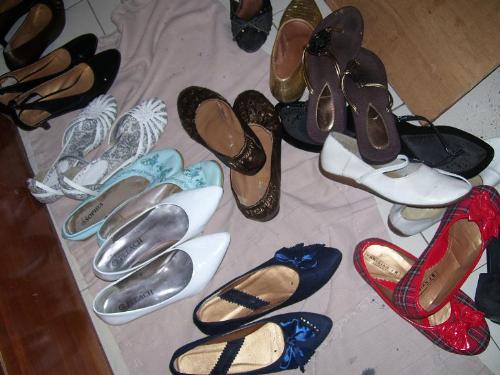 Philippines
March 20, 2009 10:07am CST
I have always heard that diamonds are a girl's best friend. But not everybody could afford them. So they settle for things that are attainable. And for most women, number one on their list are SHOES. Is this true? I mean are shoes really a girl's bestfriend? That's what my shoe loving friend told me. What do you think about that?
6 responses

• Malaysia
21 Mar 09
Not for me...I am happy with my pink Reebok sandals and Crocodile sandals and Reebok sports shoe that's it. I don't spend on shoes unless the current one is broken and cannot be mended. I think for me Tuppeware and my Nancy Drew book collection is my best friend ..........LOL !!!


• Philippines
21 Mar 09
Cool! Nancy Drew books are awesome. I've read some of them. =)

• Philippines
26 May 09
I agree with your friend.I'm not really that interested in diamonds.I prefer SHOES!

Shoes are my best friend.Having thousands of pairs of shoes is a dream of mine.


•
26 Mar 09
i looooove shoes, they rock! i reli like your blue ones with the bows on the fronts, where are they from? in general i prefer high heeled shoes though, they make me feel all tall and feminine!! yay!!

•
26 Mar 09
lol i loooove shoes, but real friends are better lol!! i like your blue shoes with the bows on the fronts, where are they from, they are so cute! i think in general i prefer higher heeled shoes tho - make me feel really feminine usually!!


• Germany
20 Mar 09
ohhhh yes! is the girls best friend



.i have lots and bags too.