A Gold Medal for my pre-schooler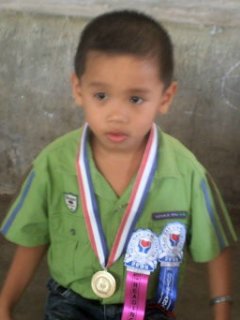 Lapu-Lapu City, Philippines
March 23, 2009 9:29pm CST
Another year had passed for my son Patrick, a pre-schooler. Their recognition day was held yesterday and I am proud to tell you all that Patrick topped their class. Aside from being the Most Outstanding kid in their afternoon class, he's also one of the two Best in Reading. Patrick is still 5 years old but still have to go another year before he start formal school in grade school in 2010...
8 responses

• Philippines
24 Mar 09
Congratulations to Patrick best. I'm sure you're really proud of him. Well, my youngest son held their recognition day yesterday too. He is in pre-school too. He had 3 awards i.e 3rd honor, Best in Reading and he was given Loyalty Award for it's his 2nd year at pre-school. He will be starting his formal school next school year. It's really good and fulfilling to see your kids go up the stage and being recognized for their hard work. Kiss Patrick for me ok. HUGZ always best. Miss you.

• Lapu-Lapu City, Philippines
24 Mar 09
Thank you best. And Congratulations too to your youngest son for his achievements. It seems that we have bright kids, better than us,

... Anyway, Patrick will be in his third year in pre-school. He just started schooling when he was 3 years old, and we just tested him and he succeed. I just hope he will continue to excel next year, and in the rest of his endeavors in life...

•
25 Mar 09
Hi neil, that is brilliant and really good for your son to be so advanced it will prove him in good stead later on in school...llittleowl

• United States
24 Mar 09
[i]Hi neildc, wow..congrats to and to your wife specially to your patrick. That is great. I know how proud everyone else for him....Continue to support his dreams, who knows, he will be the next leader in Cebu in the future![/i]




• Philippines
24 Mar 09
Wow congrats! What a good start for your pre-schooler. You must have been the proudest parents in the recognition ceremony. I think Patrick will go places, just give him all the support and he will surely do. Again, Congratulations!

• Philippines
24 Mar 09
Hi neildc! Congratulations for the achievement of your little child Patrick. I think achievement like this make us, father, really proud of our son. It also help us to endure all the hardship we get from our job just to give them a good education (and school to study). Praise also to your wife for bringing up a good and brainy child. Have a nice day!

•
24 Mar 09
Hi Neil, Well done to your your son, what a clever little boy he is and you have the right to be proud of Patrick, he will get far in life. Hugs. Tamara