What magazines do you have asubscriptions with?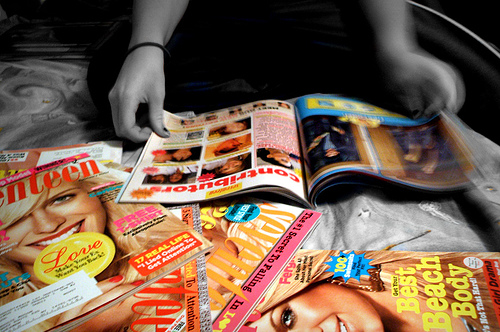 United States
March 26, 2009 6:11pm CST
Do you read magazines on a regular basis? What magazines do you have subscriptions with? For me a i have subscription with Baby Talk, American Baby, Parenting and Cosmopolitan. When I was younger I use to have subscriptions with Teen People, Seventeen, Teen magazines I use to have huge stacks and magazines when I was younger in my room.
5 responses

• Philippines
26 Mar 09
I have Entreprenuers & Moneysense subscription because I need it for my job. It keeps me updated with the latest trend we have here in our country for the business & investment. I have to know how are we doing with our other competitors in the industry. We also have to find out where is our market target. This two magazine helps me to be more proactive in terms of analysis on the stands of my company and can even share the details to my boss for us to change any program/startegy that needs to be change.

• United States
26 Mar 09
I have a subscription to only cosmopolitan. My boyfriend got me it for Christmas and i read almost everything in those magazines as they give advice and then the funnies are funny to read. When i was younger i have a subscription to seventeen and i would bring it to school with me because in the morning we used to have to read for an hour. It as something every school did around town for a while to try to get people to read.

• United States
26 Mar 09
Thats really sweet. Even when i was younger I would read Cosmo mag. At our school they would rather read out Library books than read a magazine let alone magazine like Cosmo

• India
29 Mar 09
i Have a subscription to this really good metal magazine- revolver.....being a metal fan one has to be always up-to-date to what is happening in the metal world or people think you are just a poser....and it also has an advice coloum run by my favorite and world's best singer cristina sccabia of lacuna coil fame...if you haven't read it.....do

• United States
28 Mar 09
Hi errica...I used to have subscriptions to Better Homes and Gardens, but now I have Parenting and Working Mom.

• United States
26 Mar 09
i do not have a subscription to any magazine i think buying magazines is just stacking paper that once you read it you do not want to go back to read it i prefer library's they buy the paper and i read it.