Do you like barbecue?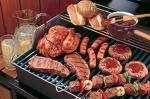 China
March 28, 2009 9:08pm CST
Hello,mylotters,it's weekend in China, so, happy weekend. Today it's cloundy and light rain, my friends will go to climbe and have barbecue on the hill, but i couldnt go for on duty. I like barbecue although it makes you uncomfortable if you eat too much. how about you? have you barbecued outside?
5 responses

• Philippines
30 Mar 09
i dont just like barbecue, i love it. we always barbecue when we got for a swim. while my children are there swimming i make the barbecue. we dont have a swimming pool lol but when we go out for a swim (there are many resort here near our place) i make sure that barbecue is one of the foods that we have. it can be of chicken and it can be of pork. i also put fish too.


• India
29 Mar 09
Yes I like it very much.Each summer when I go to the hills to my sister in law's house we used to have this barbecue parties.It is the preparations that makes is more interesting especially for the children.The bring the charcoal or firewood,plates ,glasses and indulge in full swing in barbecues.

• Philippines
29 Mar 09
Hi sinokirin! I do love eating barbecue.

Yummy!

We do get to barbecue outside most of the time. However, as much as I love eating barbecue I just try to avoid eating much since it is not too good for my health. Take care and blessings to you. lovelots..faith