movie: monsters vs aliens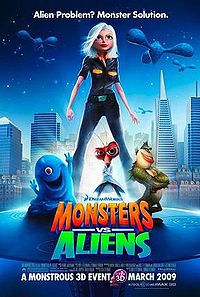 Philippines
March 31, 2009 5:17am CST
have you watched the 3d animation MONSTERS VERSUS ALIENS? did you enjoy watching it? what can you say about this movie? my boyfriend and i watched it earlier and we had fun!!

the story is about a girl name susan was hit by a meteorite on her wedding day and become a giant. she was captured by the government and place under protective custody along with other monsters with different characteristics.. when an evil alien invades the earth, the monsters was the earth secret weapon and last hope. the monsters work together and help each other to save the people. for me, personally, i recomend it to mommies and kids to watch this weekend. kids will surely enjoy this film coz me and my boyfriend(adult) very much enjoy it! there are different interesting characters in the movie that will sure bring super joy and laugh all through out the film. you will never be bored watching it.

would you also like to watch this? hope to see your view about this.. happy mylotting!!

2 responses

• Philippines
1 Apr 09
Hi mizstress. I haven't seen this movie. It surely sounds very interesting. I was at timezone with my daughter yesterday and they are giving some Monsters vs Aliens freebies. I guess I would have to wait til it comes out on dvd. Thanks. Have a wonderful day!


• Philippines
2 Apr 09
umm.. dvd, i think you need to wait for a month or two before they release it on dvd. hehehe thanks for the response!

• Philippines
31 Mar 09
interesting!

wow really? ok i'll take it from you LOL hehe my son my son recognized this one because of the Mcdo happy meal (gosh do we need to complete this one too LOL

) i'll ask dada/hubby this weekend whew! am excited, this time i think kurt will shift into this movie- it's always spiderman 123 at home hehe :D thanks for sharing! i'll get back here after watching and give feedbacks too ;) happy myLotting!

Godabless!0=)

• Philippines
1 Apr 09
i know kurt will enjoy! i hope he enjoy it like we do. there is no dull moments in the movie. and every characters are very interesting even the president there is very funny!! enjoy your movieday this weekend!! thanks for the response!!