Which type of food Should I give to my 4 months baby?

India
April 3, 2009 5:43am CST
I have four months baby and I want to start to give her baby Powder milk but she dont want to take this milk....... I'v so many time tried to give her that type of milk but she have not taken. so now I am very upset what should I do? If I try to give her that milk she vomit all milk. if I'v not given to her then she got hungry. So please help me.
2 responses

• India
3 Apr 09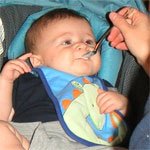 Hi, Is your 4 months baby support her own head?Is Ur baby ready to sit? If YES,Ur 4 month old baby is ready for food,exclding milk. First feeding will be a little ceral with lots of fluid(brea*t milk/juice etc). Have Ur baby in Ur lap,sitting position & give her with small spoon little by little.U may also try puries of vegetables(1-2 tsf max).Continue brea*t feeding. =Lahiri,Kolkata,India.

• India
3 Apr 09
well i dont no much about feeding baby's but i can tell u that the best suggestion can be taken from a doctor . they can give a really good advice than the people in mylot can . but i can tell u that u should not give ur baby girl milk powder , rather u should give her ur own milk , it is the most healthy thing that u can give her . and may god bless ur child.