...silence...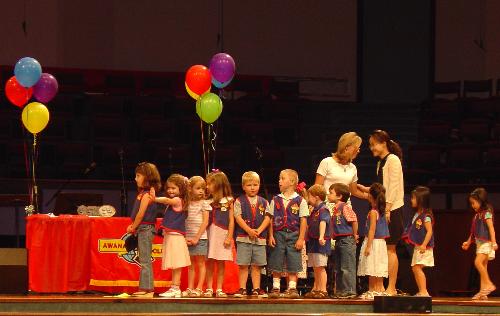 United States
April 3, 2009 3:19pm CST
I thought I loved silence for after all the Bible says that silence is golden....yet after having an empty nest, I miss the chatter, patter, clatter and lovely loving movement of children moving around me helping my spirits stay intactIs was always a "Beautiful Noise". How about you? I even joined the AWANA Club at church and it is so wonderful. Here they are getting their awards for learning verses.
3 responses

•
4 Apr 09
I yearned for silence as my children grew but when the last one left it just seemed an emptiness. After a while though I got to appreciate my quiet times again as my girls are forever popping in with the grandchildren. I now have the best of both worlds. The girls popping in some days and quiet time on others.

• United States
16 Apr 09
Thanks for the response...I work in the nursery just to hold the babies and watch them walk and learn to talk.

•
19 Apr 09
Thank you for choosing this as best response. Take care and enjoy the quiet times.

•
7 Apr 09
I still have my youngest fifteen year old son around so the empty nest syndrome has not kicked in yet.I have grandchildren from my daughter who stay with me while my daughter is at work a couple of days of the week,during the holidays,so to be honest I can give these back so as to speak and as much as I love them,two days a week can be enough.All I do is cook and play while they are with me,it is just so exhausting.What is the club you have joined do?xx

• United States
16 Apr 09
I certainly agree. I am raising a 7 yr old at the age of 61. Love him as I do I find myself very occ. Love the quiet miss the laughter. Thanks

• France
6 Apr 09
I always like people around, and children being happy and playing, noise doesn't bother me, it makes me feel alive. I don't like noise in anger, shouting, nastiness, that's noise which is different all together. It also nice to be calm and quite in the right situation

• United States
16 Apr 09
You are right. Quiet time is hard to get just to read yet one day I will have had enough and be lonley. Thanks