What Would You Do?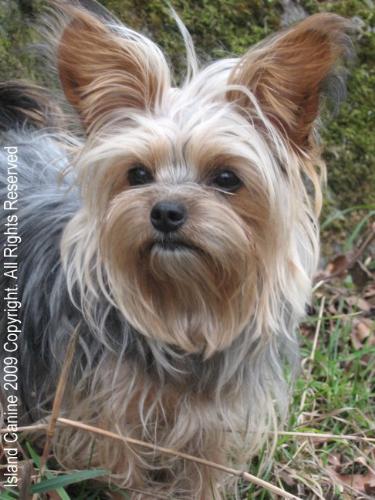 Canada
April 5, 2009 2:01am CST
Well, You probably know by know, all about my precious little Roxy. I have uploaded some new photos of her. In the meantime, I have a question for my fellow MyLot Dog Lover's. Roxy usually goes to bed at 8:30 p.m., like clock work. I could set the time by her. Her last walk at night is usually 7-7:30 p.m. We usually retire on the couch after that, located in my sleeping area. Roxy sleeps with me. I don't usually go to be at 8:30 p.m. Roxy and I usually curl up on the sofa. When it is time for bed, for me, I usually pick her up, with her blanket and take her to bed. She is sound a sleep by this time and had been for a couple of hours. If I put her to bed, on the bed, with her blanket and stay up, she will get out of bed a couple hours later and come to me, jump up on the couch and if I am on the lap top she will come right up onto my lap and sit right between me and the computer screen, as if to say, are you coming to bed? It is really quite cute. My question is this: Should I take her to the bed with her blanket at 8:30 p.m. and let her alone for the night or let her sleep on the couch with me until I go to bed? What would you do? If I am not ready to go to bed with in three hours max., after 8:30 p.m., she will wake, jump off the couch and pace until I get up and take her blanket to the bed so she can crash for the night. I sometimes think that if I took her to the bed at 8:30 with her blanket she would get a fuller nights sleep that moving her when I am ready to go to bed. I appreciate your opinions. Thanks.
5 responses

• United States
5 Apr 09
Experiment for the next couple of nights and see if she wakes when you take her to bed to bed.. If she doesn't then let her sleep while your winding down.

• Canada
4 May 09
Hi and thank you for your response. Roxy will wake when I pick her up in her blanket to put her to bed when I go. She will stretch and yawn but then cuddles up beside me, laying on her back with her head on the pillow beside me, waiting for me to rub her belly while she falls back asleep.

• United States
7 Apr 09
Your Roxy sounds adorable. We have a Papillion/Chihuahua who also likes to go to bed early, usually around 8:00. If we're in the living room he will fall asleep on the back of the couch. When my daughter goes to bed at 9:00, she picks him up and carries him to bed with her. He usually falls back to sleep right away and when I check on them my daughter usually has her arm around him and he has his head on her shoulder, both fast asleep. I wouldn't worry about your Roxy not getting a good night's sleep. Most adult dogs sleep about 20 hours a day so she is getting plenty of rest. She will sleep when she is tired. I think I would let her stay on the couch near you and when you finally turn in just carry her with you. Right now my 3 little angels are asleep on the back of the couch.(It's a wonder they never fall off, but they haven't yet.) I am right next to them on the computer.

• Canada
8 Apr 09
Your daughter and dog sound asleep I bet is a cute sight. Nice. I do carry her to bed with me and well Roxy is still technically a puppy. Going to be two in May. She doesn't sleep 20 hours a day at all. We are on the move most constantly. If I have days where I am at home she will nap after her meals before her next walk and in the winter she sleeps much more through out the day. Maybe she isn't getting enough sleep? She may need more if dogs usually sleep twenty hours a day. That only leave four waking hours. Roxy is up way more hours a day than that. She may sleep for a total, on a regular day, 11 hours. It is surprising that your dogs haven't fallen off the back of the couch. How sweet that they sleep there. Cute. Love to see some pics on your profile of your dogs. Thank you for your response.

• United States
6 Apr 09
That's so sweet of you to care so much for your furry friend that you'd come on here to ask your question!! That's so awesome!! I wish there were more of you in our world!! Now to answer your question, I'd let your dog be where ever she may be laying already. In other words, if she's on the couch, let her be. If she's on the floor, let her be and the same goes with the bed. Dogs don't sleep soundly although they may seem to, they really don't. They "nap" basically with one eye closed and one eye open because they're constantly on the lookout to protect their owner. She may seem to be asleep but that's because she trusts you completely knowing you won't hurt or drop her. My suggestion would be to get her a doggy bed with a top or over hang type of thing so she could get into that if she wanted to, that way you could pick her up and take her to bed when you go. If she wants to go to bed on her own, she'll go on her own but she wants to be with you so get her a doggy bed big enough for her to stretch out in but not feel swallowed, if you know what I mean. Good luck with your furry friend!!

• Canada
8 Apr 09
Thanks Cats and Dogs. She does have a doggy bed but she rarely uses it as it came with her from her previous (neglected) home. I am (excited to say) having a rocking canopy bed made for her! :D Very excited about that. In the meantime, I will consider your feedback that I appreciate very much. The thing is I find that she is yawning during the day and not because she is stressed and releasing but because I think she didn't get enough sleep, when I am up after 8:30 p.m. when she usually turns in. Often times she will jump off the couch and then pace around, to the bed and back, pace some more. That is when I will take her blanket from the couch and put it on the bed so she can retire in comfort. She does sleep sound at night, I can assure you because she will snore. Denoting a rather deep sleep. I can move her, when on the bed and she wont wake up completely. I can hardly wait for her canopy bed. I am trading three days of house sitting for it in November. This is going to be super cool for her. She loves to rock to sleep. I just hop she likes it enough to go into on her own. Thank you for your response.

• United States
5 Apr 09
Aww what a precious Roxy you have! I guess I would take her to bed and see what she does. I let mine lay with me until I go to bed. I don't think they would stay in bed without me..lol..they are my shadows. I have two tea cup chihuahuas. You can see them on my profile if you want. I need to upload some recent pictures because my evil Eva has grown a bit since. Take care.

• Canada
4 May 09
Looking forward to the new pics of evil Eva. Roxy is so precious words can not describe. Thanks for the comment and response. I find that she will tell me when she wants to go to bed but for now I am trying either or. Sometimes I let her stay with me and other times I put her to bed. Depends on how she is acting. I just don't like it when she is yawning during the day because it seems then to me that she didn't get enough sleep.

• United States
5 Apr 09
Aww! That is so sweet! Your little girl is sleepy at a specific time every night! My gals sleep with me, always. If I get up after a few hours sleep (which is very normal for me), they'll tag along if I don't come right back to bed. They join me in my office, if that's where I head, and flop down nearby. If they really want to go back to bed, they'll start bugging me to come back to bed by staring at me and wanting to get in my lap. They don't seem to understand that they could stay there without me. One sleeps curled up beside me, all squished up against me, and the other sleeps on my pillow, curled around my head. If I'm not there, they get upset. I doubt Roxy would get a better night's sleep if you took her to bed before you get in there with her. She'd probably just wake up earlier, notice that you're not there, and come to find you. But, still, all dogs are different, just as all humans are different. You could try your idea and see if it works. Good luck!

• Canada
8 Apr 09
Exactly. That is what she does. She wakes and comes to find me, climbs up and sits in front of me and the computer screen as if to say, why are you not in bed yet. Lol. You pets sound absolutely content during sleep hours. That's sweet. I will try and put her to bed to see if she stays and sleeps until I get there. Thank you for your input.