musquito

India
7 responses

• India
25 May 09
You are asking me when it was last time I was bitten by mosquito and my answer is just a few seconds back! In fact, I also live in India, Kanpur, Uttar Pradesh to be precise. And right now mosquitos are biting me like anything. I really hate them and I use All Out to guard agains them but even All Out does not work at times.

• Indonesia
8 Apr 09
Yeah, i remember clearly when i was bitten by a mosquito. Just now :D. It is rainy season here in my country, and i find lots of mosquitos in recent days. They keep on coming everynight and never let me free from their bites. Ugh. It is absolutely so annoying. I usually apply anti-mosquito lotion on my skin to avoid their bites.

• United States
8 Apr 09
We don't have any yet too cold, so to answer your first question my last bite would be last summer. I don't like using the chemicals so we usually just go in the house at dusk depending on how many skeeters are out biting that evening ;0)

• India
8 Apr 09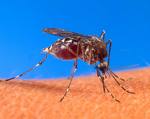 Hello ganesh just a minute ago. we have a lot of mosquitoes here as iam also an INDIAN,though we have all the doors and windows netted,then too we cant stop them so we use goodnight .

• India
8 Apr 09
i use ODOMOS cream . I generally wear full pants while sleeping. This may prevent a bite to some extent. Mosquitoes nowadays are biting my ear and hands !!!


• United States
8 Apr 09
I live in Massachusetts, USA, and I've just started noticing the mosquitoes in the last couple of weeks - I even got a few bites! It seems like as soon as the snow is gone, the mosquitoes come out. In New England, there's a lot of bogs and wetlands, and they tend to live there. If you go to a rural area as opposed to a city, the mosquitoes are much worse. Not only are there mosquitoes, but sometimes the blackflies and horseflies become more of a nuisance than the actual mosquitoes! Horseflies are bigger, and their bites are much worse than mosquito bites. I'm sorry that you have to deal with mosquitoes all of the time - at least we get a break here!!