To which TWILIGHT character can you RELATE to?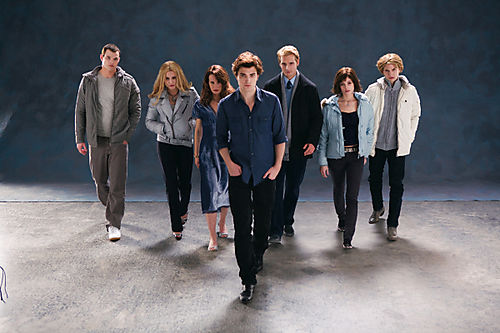 Philippines
April 12, 2009 12:45am CST
TWILIGHT is a huge phenomenal success! It has proven it worth on book sale and on box-office as well. Making the names Stephanie Meyer Kirsten Stuart and of course er Rob Pattinson (*giggle) household name names. It really makes me wonder as to whether people got hooked on the book first or pick it up when everybody starts talking about it. I mean, lets face it, Harry Potter books are bigger than the movie itself... that would be for another discussion... There are so many interesting and conflicting characters in Twilight which made Ms. Meyer an awesome writer for bringing them together in harmony. TO WHICH TWILIGHT CHARACTER CAN YOU CLOSELY RELATE TO?
5 responses

• United States
12 Apr 09
I would definately be Bella. I'm not very social, I'm bad at sports and I care a lot about the people I love.

• Philippines
13 Apr 09
Sweet... I hope your not clumsy and accident prone too LOL. That was a joke. Yeah Bella is very lovable and adorable character and she definitely is special.

• United States
19 May 09
For most of the females out there...one would probably say Bella. I for one think I am more like Alice. Not as far as seeing the future.... :-) But personality wise. She is a very likable person and becomes one of Bella's close friends. She seems very dependable. Of all the characters in the books...Alice is my favorite...next to Edward of course. ;-)

• Philippines
15 May 09
I just watched the movie last night... and i finished Breaking Dawn last week... the movie made me realize that the reason i did not like the twilight book that much is because i can't really relate to Bella... i even thought that it was the most poorly written book among the 4... I can relate most to Jacob... i don't know why... but i enjoyed the book more when it was told in his own point of view... and i hope the next book about this world would be about him and Renesmee...

• Philippines
15 May 09
I think I can see myself as being "Jacob". Cause everytime I start to like a person, she seems to step away from me. I guess I'm not the type of guy that everyone likes, although there are some who still like me but I don't like them. It's just that there are some things that are not meant for you and you are destined to accept it whether you like it or not...

• Philippines
9 May 09
It's BELLA for me :) I'm accident prone. I love the people I love and I'll do everything that I can to protect them. Bella wants to be a vampire and so do I. Bella may not be the most beautiful girl in the world, but to Edward she is most beautiful. One lucky girl.