Basic Instinct - Ultimate thriller movie Must watch for everyone

India
April 13, 2009 2:40am CST
I see both Basic Instinct 1 and 2 as well. I enjoy both the movie. I think these movies are mother of all type of thriller movie. I like them very much. There story track is different and very strong as well. Up to last it was very interesting . Viewers have so many question about the story even up to last as well. Imagination of the script writer is hard to believe. I like performance of sharone stone as well in this movie. If you also seen this then share your opinion otherwise go for seeing this movie.
3 responses

• United States
21 Apr 09
This movie brings back a weird memory for me. I never saw the second one, just part one. The first time I saw it was when I was in my teens, not too bad I thought. The next time I saw it I was in my early 20's on a date, I wasn't planning on watching it, it was just on the tv when I turned it on. And the girl I was with I guess never saw it before. It was a pretty gruesome movie, the twists to it and all. Any hoo, after the movie was over she begain to talk bout pretty crazy stuff, killing people, people dieing. To me it was just a movie, but it awoke something in her, I thought she was a weirdo and never spoke to her again after that.

• India
21 Apr 09
This movie awarded best script oscar award. Apart from that no under bear seen of heroine is sexiest ever seen of the century.

•
13 Apr 09
I've seen both and reckon the first is superior to the second but I don't think they are that great a thriller. Most people only remember the first Basic Instinct for one thing, that being Sharon Stone flashing her bits under cross examination at the police station. As for number 2, well for me it's not at all memorable. Comparing Basic Instinct to other similar movies such as Sliver and Body of Evidence it is definitely superior. But then compared to what I would class as classic thrillers such as Psycho, M, Rear Window and Rebecca then Basic Instinct looks rather tame.

• India
14 Apr 09
I think you like thriller movie due to that yo see all other thriller as well. Psycho is also memorable.

• India
9 Jul 12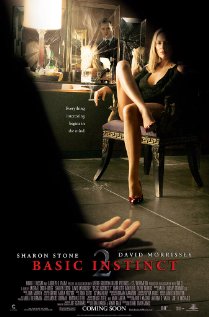 I loved Basic Instinct very much but Basic Instinct 2 wasn't as good as the first part, Basic Instinct 2 could have been better, but it was the same story under different circumstances and just got boring with everybody's acting. Sharon Stone even in the 2nd part was as hot as she was in the first part, that was the only thing that I liked about Basic Instinct 2 ....