no budget travel...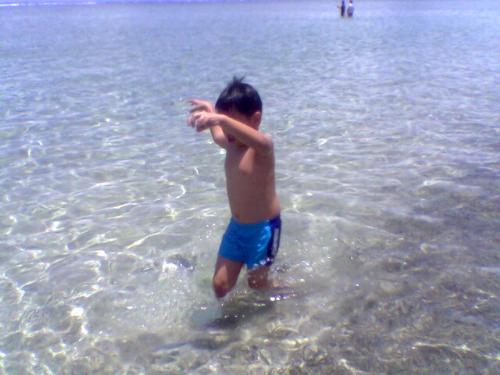 Philippines
April 13, 2009 11:59pm CST
we went to bicol this holy week and guess what, we have no single cent on our pockets. March month has so many working days, its from 1 to 31, in this light im not able to get my salary for so long.and my budget wont fit to wait for the next pay day. so here's my persistent husband, who wants to get a nanny for our kids from his hometown. though i have already told him i dont have any money to provide food for us and to pay the toll fees and for emergencies etc etc. he still wanted to pursue, so tired of the battle i then agreed but with butterflies in my stomach since we dont have cash to travel for 13 hours on the road with 2 kids! i just did not stop praying. thank God we arrived safely and with no need for cash, my husband got the route without so much toll fees. then when we arrived, food was there, we were still treated as the royal family as before (joke!=) on the first day, we were able to go to the beach without much trouble, my husband's family prepared food. the next day we went to a hot spring after dinner, (the water were great however my husband's family could not stay long for some reason) so we did not enjoy so much. on the third day we rested in the morning but i insist on going home since my youngest child was not feeling well, i believe this was the payback of not being ready going to a far out place. but we enjoyed, i believe that was more important. though we were not able to get a nanny. how was your vacation?
5 responses

• Philippines
15 Apr 09
That great to hear that even if you started the trip with too much worries since you and your family does not have any money on the pocket but then it ended well and you have enjoyed your trip. Sometimes we are crowded with too much worries that we fail to trust God and see the little things in life that will make you happy. Even if you do not have money but the bonding that you have together with the family is worth is and is the most important thing.

• Canada
14 Apr 09
Glad to see that you enjoyed your vacation in spite of not having a nanny to look after your children. It seems that the recession is affecting everyone these days. We have not gone anywhere, but it is not because of money, my husband is a semi=invalid. We are waiting to see if we can get a ramp for the house or whether we can stay here. If we cannot, we will have to move to a senior's place, and the only travel we will do is on tour buses with all those elderly people. If we stay here, and my husband gets a power chair, then we can get taxis or get one of our sons to drive us to the airport and will be able to go on trips again.

• Somalia
16 Apr 09
Great! I'm originally from bicol but don't get to home much these days as vacation days is a scarcity in my job. But when I do get to go home, I usually hit the beach with my family, the beaches are practically next door so we don't have to spend much on family picnics. lol! so which hot spring did you get to visit?


• Philippines
14 Apr 09
wow!! i envy you.. you and your family been able to have a great vacation without throwing a lot of money.. congrats! thats a work well done.. me, im just in the planning stage of my dream summer vacation. i been counting all my expenses and i still need to earn a lot to be able to make my summer vacation come true.. hope i can also have a vacation like your have.. the beach looks good too!! happy mylotting!!

• United Kingdom
14 Apr 09
It is lovely to hear how you got on during your vacation. I took my toddler son to Cape Town and the Garden Route in January. It was summer so we enjoyed warm days with plenty of sunshine. It was a 12 hour flight to get there. I loved seeing Table Mountain, viewing the penguins at Boulder's Beach, visiting Camp Cove and going to the botanical gardens. The highlight of our trip was a two and a half hour safari to see animals like lions, zebras, giraffes, hippos and rhinos.