Do you always listen, read, or watch the daily news?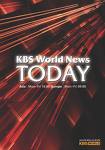 Philippines
April 14, 2009 5:53pm CST
Whether it's politics, or about climate change or the economy or crimes,or entertainment, I always tune up to my favorite local radio station every morning to keep myself updated of what's happening in our city. Then every night (almost always), I watch TV Patrol for the national and international news. I also read the dailies at least once a week. I'm a college professor, so I need to keep abreast with what's happening with the world. It helps me widen my perspective about things and life ..What about you? Are you keen on world affairs?
2 responses