Do you eat Macaroni Salad?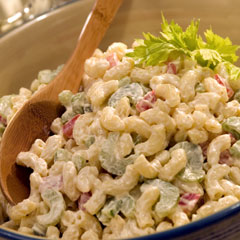 Philippines
7 responses

• Philippines
17 Apr 09
Is there anyone who doesn't love macaroni salad?Im sure everyone is a fan, especially me..I love macaroni salad especially one with generous amount of mayo..It's a healthy snack and very easy to prepare..Aside from macaroni salad, we have this dessert, very popular in the Philippines, Buko Salad..It's made of shredded young coconut, with cream, sweet milk and other sweet stuff..Everyone with Coconut in their country should try it..:-)

• Puerto Rico
16 Apr 09
I love macaroni salad too but I only eat my own or my mother's. Which of course I was raised on her recipe. Its delicious!

• Philippines
16 Apr 09
i remember the first time i eat macaroni salad when i studied a little bit on cooking during highschool days. its really delicious and most of all affordable than fruit salad. from that days i'll always make macaroni salad on special days like birth day, new year, reunion or what ever special occasion we have.

• India
15 Apr 09
hi mymaria, my dear friend, i often make this macaroni salad for my hubby . i am not a big love r of it . i love green salad that too without any mayo or cheese or any chicken or no veg items included in it. my way to make the macaroni salad is very easy and i am sharing it with you. i hope you lik it. it is so easy and fast to make that you can give it a try just after reading it. all you need is .... 1 c mayonaise 8oz macaroni, cooked, drained and cooled 2 tbsp vinegar 1 cup celery sliced 1 tbsp prepared mustard 1 cup bell peppers green or yellow or red whatever you want 1 tsp sugar 1 tsp salt 1/4 cup chopped onion 1/4 tsp pepper nowin a large bowl combine mayonaise , vinegar , mustard, sugar, salt and pepper. mix until all is smooth. now add macaroni , celery, bell pepper and onion. give it a tosss to coat. cover it up and refrigerate for atleast two hours to blend all the flavours. isnt this an easy one and a nice snack for you to enjoy.


• Philippines
15 Apr 09
hi mymaria My favorite would have to be chicken macaroni salad. It's always a part of every special occasion that family celebrates especially during Christmas. Best served when cold, of 'course.