Strippers are baring it all for the taxman!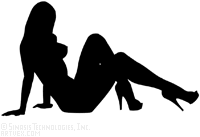 Australia
April 15, 2009 9:27pm CST
Tax agents in Sweden are being employed to crack down on web cam strippers. It is estimated that hundreds of Swedish women are evading tax law which is costing Swedish taxpayers 40m Swedish kronor (US$4.9million) every year. The tax officials are to examine stripper websites for hours and hours; so far 200 strippers have been investigated but there could be as many as 500. The tax officers are under the impression that the majority are young girls who are not informed about the laws. So guys imagine having to "endure' hours and hours of stripper websites and be paid for it! Not a bad job! What do you think?
3 responses

• India
16 Apr 09
Hi, Paula. How are you? So, it is true that strippers, even at webcam, needs to pay taxes. Wow! I didn't know that before hand. So, that was the reason why they ask us to pay money before they can strip in front of me on webcam. No, I have never paid money for what I can see in my real life for free!


• Australia
16 Apr 09
I didn't think so for a minute sanuanu!

Thanks for dropping by!

• Australia
16 Apr 09
I think the taxman is always hungry for more money. It is like a wampire. It sucks money out of everyone. With the competition out there... It is a matter of opinion how much money those women actually make. If the website had 50 women... The site itself might make money. But then you have to divide the money by 50... and pay a sizeable fee to the website. As for the tax officials wanting to watch hours of striptease... Dirty old taxmen? How are they going to trace those women by watching them? It is not like they have their name and address on their forehead. How do they know how much they make by watching them? Do they say "Oh! This one is really pretty. She must be making a lot."

• Australia
16 Apr 09
I wondered that too when I read the news article. It beats me how they would determine how much each girl earns. I'm sure the tax officials aren't knocking the job! You are right, one of the guarantees of life taxes, taxes and more taxes! Thanks for responding, appreciate it.