how do i do it

United States
April 19, 2009 9:42pm CST
well i've seen people post images of their payments proof. the thing that i'm wondering is how do people get that image? do i have to print it or something like that or what? what do i have to do to get an image of my payment so that i can prove to people that a site really pays? do i need a speacil program to do it or is it some thing that anyone can do and its easy? well if you can help me out that would be great. i just want to thank everyone that respond to this discussion in advance for any help or advice that you can give me.
7 responses

• Australia
20 Apr 09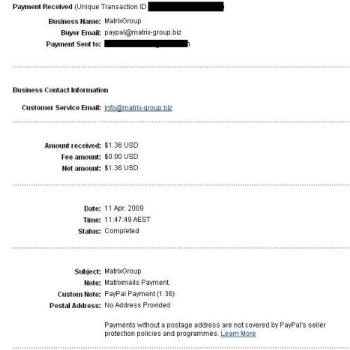 If you have paint program on you PC, it is not really all that hard. Do a screen capture by hitting a button on your keyboard. It would resemble the words print screen. The go to paint, paste the screen image there by using the cntl+v. Here you can crop the image down to what you want and remove any personal details you don't want to see. When you save it, make sure it is in jpg format. From here you can upload it to any site that you want whether it be mylot or your own blog. Here is one of my many proof of payments I do.

• United States
20 Apr 09
wow, thats all you do. here i was thinking that it was harder then that. i just really want to thank you for this information on this. i was hoping that some one knew how to do it. thats much easier then taking a picture using my digital camera or printing it and having to by a scanner. so how did you learn about doing this?

• Australia
20 Apr 09
I have know that I could do the screen capture even before I had started online earnings. The only thing I didn't realise is about types of files that I could save the paint image. The default file type is bmp. Because I was saving the images as bmp, the file size was way too big. So after a little playing around with saving files, I discovered the jpg file. The size of the file is smaller than a bmp. Don't ask me why but it just is. It was something I had discovered for myself at least 8 to 9 months ago. I still have so much to learn and alot of it is self taught. And I will learn a bit more as time goes on. The only thing I can get my head around at the moment is htlm codes. It doesn't matter how much I try, or to have people explain it, I have no idea about those.

• Philippines
21 Apr 09
Well, all you have to do is open your payment's receipt online then on your keyboard press "print screen" found as the left side of "scroll lock" or upper portion of "insert". after you had press the "print screen", go to paint found in the accessories in your start button or menus, then paste it there in the paint. You can already save it or edit some part of it using the tools. If you have any questions feel free to PM me.. Hope I had help you..


• United States
23 Apr 09
well thanks for the information. it seem like the whole time it was stairing me in the face and i didnt realize it. its funny. now that i know that i can post my payments that i've gotten form site so that people know that i've gotten paid and maybe they'll be more likely to join as my refferral. thanks again for your help and keep mylotting.

• India
20 Apr 09
Well a lot of people print their payouts that is very strange.

You have hundreds of software programs that can capture the current screen contents visible on your pc screen. Then you can save it as an image and can upload it anywhere. I am using windows 7 and it contains an inbuilt program called "snipping tool" which lets you to take a screenshot of your current page or whatever you want to take out. So please don't waste your time on first printing and then scanning it again. It is easy as 123


• United States
23 Apr 09
well i have windows xp. i've heard that all i need to do was hit the print screen button to do it. i dont know if i need a printer or what. but i'm going to try it. so is windows 7 new or some thing, because i know that the newest was vista and i dont like how much memory that requires to run it. well thanks for responding. keep on mylotting.

• United States
20 Apr 09
Easy. Use a scanner, one that connects to your computer. How else do you think those really old pictures get on the internet? (Like the early 1900s ones)

• China
20 Apr 09
My proof of payment from Paypal directly saved, and then posted to the forums or in my blog. However, some people proved false, so that any web site or need to try to do your own.

• United States
20 Apr 09
What I did to make mine was print a copy of my Paypal page showing the payments I received. I then made sure all personal information was not available to others. Then i scanned it on my printer/scanner and saved it in a file. Then you just upload it to wherever you want it: your website, etc. At first it is frustrating, and making sure things are clear. But I like scanning images on the printer better than some people taking pictures. Hope it helps.

• Philippines
20 Apr 09
Hi there!

In posting a payment proof I use the screenshot pilot program. It only occupies a small memory on my computer. I always have it on my desktop so it's always available whenever I have to use it. First I open up what I need to post. Then using the screenshot pilot, with the mouse I drag and select the area I need to take the shot and save it on paint. I edit the shot on paint to remove confidential details of payment then save again. That's it! Ciao!