She changed her attitude just because she is now rich...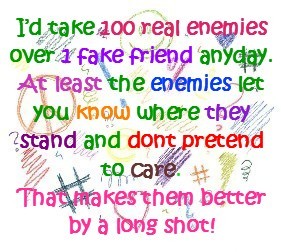 Philippines
April 20, 2009 7:48am CST
Do you have friends who change their attitude just because they have a new status in life? I do have a friend whom before we are constant in chatting and emailing each other. I know that her hubby is doing well with his job and has a very good salary that they can afford to buy things such as a new house and car. I am happy for that of course, but what i don't like was that she has already changed her attitude. I know she has new friends and new hobbies in life. And she doesn't speak to me just like before that we were close like sisters. I don't know what happened but what i know is that change is the only thing constant in this world. But having good friends are hard to find.
4 responses

• United States
23 Apr 09
i dont know that this is meant to be bad. i think peoples life styles change and i know if they are making money they have to be working for it. so that could be another issue they are busy now working and trying to fit things in in other areas.she probably is diffrent but just because her life style has changed. my life style changed after having three babys at once and starting my own business.so i dont have time for the friends that have alot of lesiure time on there hands. not because i do not like them but because i do not have this kind of time.and i do miss them some times.

• Philippines
23 Apr 09
Yours is exceptional. But that friend i am talking to was different. She's always online on yahoo messenger although she don't even buzz me even if i say hi to her, unlike before. A lot of things changed, in short she drastically changed. If she speaks, it is just limited and was always in a hurry like she is allergic. Anyway i accepted the fact that things doesn't go the same like before.

• Malaysia
20 Apr 09
I used to have a friend like (no longer in contact, so 'used to have'~~~) We're not really so best buddy but I hang out with her a lot. Then she graduated earlier than me and get a better job than me. Things started to change. I was jobless at that time, so she seem to look down on me (I can notice, not being prejudice). Then being around her became annoying and she seem to avoid us (my other friends and I) more and more. Our last contact was when she got married and we, as friends attended the wedding.

• Philippines
20 Apr 09
yes, sometimes when you are not in their level, they will stick around with new people to make their status more obvious..

• Romania
20 Apr 09
We say here theat..."the money is the devil eye"...so, is for weak peoples, who think that some money are the most important thing in theyrs life. Money are nothing. To live a clear and happy life mean to be honest with you and with others...i am not stupid, money are important, becouse make us feel more confortable, but to live just for money and make money our master, is something wrongh.' very wrongh.

• Philippines
20 Apr 09
yes you are right, treat money as your slave, not you being the slave over that money...

• China
26 Jan 11
This kind of thing is nothing new.Strictly speaking, the one you said isn't true friend.As the saying goes,the tree is known by its fruit,time will tell,surely he is ruthless one.