Strangulation by hair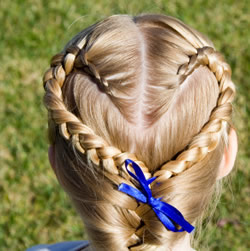 United States
April 22, 2009 9:26am CST
I hope someone could help me out here. I have really long hair, thinking about cutting it, and sometimes it's nothing but a pain in the butt. The thing that bothers me the most about it is when I'm sleeping. I wake myself up, because when I turn over in bed or something, I end up waking up from my hair being wrapped around my kneck many times. Anyone else suffer from this and any ideas on how to keep hair from being a nuisance? I've tried keeping it up, but wake up if I lay wrong and it feels weird. Sometimes it gives me a headache. I find it uncomfortable to have it up in a pony tail or scrungie when I go to bed. I'm willng to give anything a try.
4 responses

• Canada
22 Apr 09
I always go to bed with my hair in a loose braid, that way it doesn't do anything it shouldn't do. My hair is long too, and I'm looking at having it cut as well, my job indicates that I should anyways since it's always a problem while on the job. Try putting it in a braid to see if that helps you at night.

• United States
22 Apr 09
I would do that if I oould even braid my own hair. I can braid other peoples hair with no problem, when it comes to doing my own, big time problem. My husband can braid so I'll start asking him. I actually forgot he could braid hair. I'm thankful for your comment, for it reminded me of that. I'm sure he will love me for that. LOL

• Canada
22 Apr 09
Glad to be able to help out with this. Take care.

• Canada
1 May 09
Thanks for the best response, I take it that it's working?



• United States
23 Apr 09
I did sleep lastnight with my hair in a braid. Yes,it did seem to work very well, thanks to you both. Only one time I woke up, because I ended up laying on the part that keeps the braid in, and the lump didn't feel to good in the back of my head. That's it. Otherwise no strangulation or my husband getting whipped in the face from my hair. LOL I was given this bit of info lastnight. I will try the pony tail and see how that operates. I really need a haircut. Have'nt had one in so long, I think over a year or so. So my hair is down to my waist. Thanks, savypat!

• United States
22 Apr 09
From what I am reading I do not think you are going to be happy with the long hair no matter what. If it was me and it was at one time the long hair made my head hurt. I said enough was enough I cut it short and have worn it that way every since. There Is a lot to be said about wash and wear.

• United States
22 Apr 09
Yes, that is true about wash and wear. So much easier, quicker, and not to mention how much money is spent on shampoo and conditioner. Plus it's very time consuming. I would love to get it cut, my husband would'nt mind just a trim for he likes long hair, but he doesn't realize the work it takes. Not to mention the headaches I get from time to time and it does'nt matter if it's up or down. They certainly come.

• Nevada City, California
24 Apr 16
My hair is almost to my waist, and sometimes I too think about cutting it off. It takes so long to grow to this length, I don't want to be impulsive. I always sleep with it in a braid, in fact it is braided in the daytime a lot too. That keeps it out of the way, Short hair is good for sleeping, but I actually don't find it easier to style.