Why Nicole Why?! Now the Rapist has been Released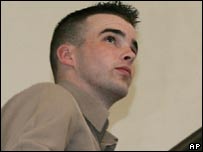 Philippines
April 23, 2009 6:02am CST
I just got back home from Work Today and decided to relax and watch some news at this time. Normally, I would simply focus on the news part about an anchor news's wife death. but this news had really boiled me at the point of explosion.

. Why? because this news should have given the person justice for that rape case. http://news.bbc.co.uk/2/hi/asia-pacific/6205324.stm

but after Nicole some how retract her statement from before. it would seemed that Daniel Smith (not you if you have the same name) is a few days from coming home free. away from his crime. where is the justice in that?!! I fear these soldiers now than ever, i would prefer to stay away from them. I just no longer believe in our justice system, they bought her out for sure. I fell pity for this person who withdraw the fight.

.what do you feel as a woman, most specially if your from the Philippines. It's too late now, he's getting away from it.
1 response

• Philippines
30 Apr 09
She should have told us in the first place! I guess she was so afraid to tell the truth because the Militants were supporting him. I feel bad for her and those who supported her. She did mentioned that she has an American Boyfriend. I doubt she will have a good luck there because some Filipinos will hate her for sure.