An interesting story of our rabbit pair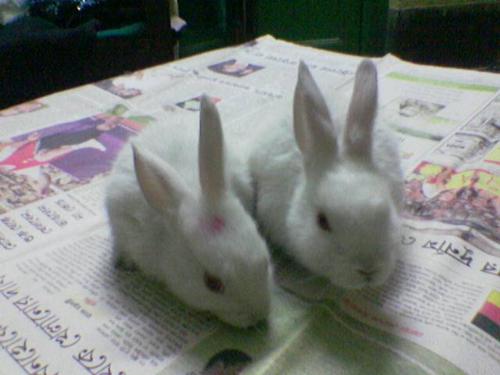 India
April 25, 2009 10:01am CST
We have two rabbit. I gifted them to my girlfriend on our anniversary. They have a very interesting story. A few days before our anniversary I decided to give my girlfriend a pair of rabbits. So I went to a pet shop and bought them. At that time I had no experience of any pet. So I ask the shop owner to give a male and a female rabbit. He said that the rabbits I am buying is a pair. Then I came back and on the day of our anniversary I gifted them to my girlfriend. After 2 month we took our rabbits to a vet for regular checkup and the doctor said that the female rabbit is pregnant. It will take nearly 6 week for the babies to come. We became very happy. I came to home and conveyed the happy news to my near and dear. There after we started taking more care of the female rabbit. When one month passed we thought that it would be better to check if everything is all right. So I took them to the doctor again and asked him if every thing is fine. At this visit the doctor said that they are not at all a pair. He said both of them are male. Then I asked him that how could it be possible because you said one of them is pregnant last time. The doctor said that on last visit he could not identify them properly because they were small in size. I thought in my mind.. "Wow what a bad excuse". In this way our dream shattered. And now I feel angry on the doctor and the shop owner.. Do you have any special story of your pet. Share here.
1 response

• United States
25 Apr 09
If you look on the internet you will find that you don't house rabbits of different sexes together. You also need to look at housing any rabbits together in the same cage. While you are at it look at how many babies they can have and how often, unless you intend to eat these rabbits, You may reconsider how happy you are with the results. Blessings

• India
25 Apr 09
I am never going to eat rabbit. I know that they produce lots of babies at some regular interval. But I thought we could give those babies to other people because here in my place lots of people are now having rabbit as pet. I would love to see those small babies. But its not possible now.