I found a knot under the skin on my chihuahua's back....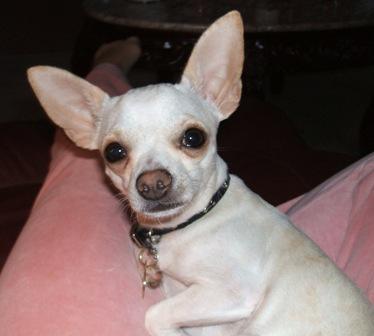 United States
April 28, 2009 9:51pm CST
Tonight we discovered a hard knot (probably the size between a nickel and a quarter) under the skin on my 3 year old chihuahua's back. It is located a little bit above his right front leg. It doesn't appear to be sensitive to touch. But now that I have felt it, I can even see it when I am not holding him. We just had him neutered 11 days ago, and he also got his rabies shot and distemper shot 11 days ago. Do you think it is anything done at the Vet's office 11 days ago that could have caused him to have this knot? I was just in the Vet's office yesterday getting his stitches removed. But at that time I had not noticed the knot. When they get their shots, where are they given on their bodies? What do you think this knot could be? I am so worried about it. I love this little doggy more than life itself, and I could not bear it if something happened to him. My husband says to just watch it for a while and then take him to the Vet if it doesn't go away. But I want to catch it as early as possible if it is something serious. What do you think?
2 responses

• United States
29 Apr 09
I'm not sure if you are away, but there are these larva type things that can get under the skin of animals if they've ever been outside. They're called warbles I believe. We had this happen to a cat of our last summer. We noticed the knot and the cat was swollen. The next day we noticed the hole and we saw the thing in the hole. Nothing can be done, if it is infact a warble until a little air hole is placed if you will. If that is what it is, you can try to get it out at home with vaseline over the hole and tweezers, or just some squeezing and tweezers. Clean it a bit and keep some neosporin on it for a few days and he should be fine. If that isn't it, then I'd definitely check with the vet.

• United States
29 Apr 09
Thank you for this information. This is interesting. I have never heard of a warble before. I hope it is something such as this that is not serious. Tink does go outside several times a day to use the bathroom. I will check this out, and maybe even call the Vet today as well. He's my little baby, and I want to make sure he is well at all costs.

• United States
29 Apr 09
The vet can remove it as well. It didn't cost us anything to get it removed but I can't say the same for every vet, lol. If it's a tricky one, it may require a small snip to gain better access but it didn't seem painful for our cat, he wasn't that bothered by it. It's just rather gross.

• United States
29 Apr 09
aww--Tink's adorable. That sounds odd that if you just took him yesterday to get the stitches removed that the vet didn't notice something. Can you call him and ask about it? Otherwise, yes, if it really concerns you I'd take Tink to the Vet. Sorry not more helpful...been a kitty person all my life....LOL...but I know what you mean. I'm like a mother hen watching over my two present cats.

• United States
29 Apr 09
Hi Pye. I think I will call the Vet today and ask about it. The Vet did not notice it on Monday, but he was taking stitches out, and Tink was turned on his back. The Vet didn't hold him - I did, so I can see how he would not have noticed it. It just seems like it showed up out of the blue last night. It doesn't hurt him. I am just clueless, but anything like that out of the ordinary looks scary.