How much TV do you allow your child(ren) to watch?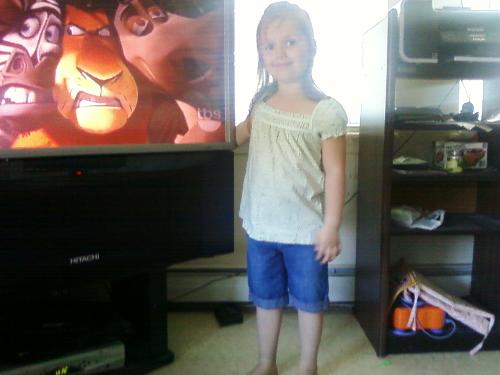 United States
April 29, 2009 2:33pm CST
For me I can honestly say my TV is on almost all day long. As for the amount of time my children spend watching it, is completely different. I only allow no more then 3 hours a day during the week. On weekends I'll let it slide for 4 hours or a little more. Regardless of how many hours that is, they are outside for 3 or more house a day running around and riding their bikes. I'm not worried at all about my children being unhealthy because they would rather be outside anyways. How many hours do you allow in your home for your child(ren) if any?
5 responses


• United States
29 Apr 09
That's how my children are. They love the disney channel as well expessially the morning shows. Thank you for your response.

• United States
29 Apr 09
My kids usually ask permission before watching TV. I usually always say yes since I notice that they usually work on other activities at the same time (coloring, homework, reading). I think they like the background noise more than anything. I'm also not too worried about my kids since they would much rather be riding bike outside than sitting inside in front of the TV.

• United States
29 Apr 09
My children usually prefer the background noise as well. They will be playing in their rooms then come out and watch 15 minutes then go play for another hour or more and so on, or they will be coloring as well. My children cant read yet nor have homework yet. Thank you for your response.

• Canada
29 Apr 09
our daughters are older but i still like to encourage them to do other things such as read (fortunately they both LOVE to read!) our youngest is 12 and she likes to go out and ride her bike, but our oldest is 16 and well, she would rather be on the computer anyways, than watch tv. they watch one or 2 shows on family (canada) and thats about it per day.

• United States
29 Apr 09
My oldest daughter I believe is going to love reading when she is older too. She trys so hard every day to learn. My kids are too young to want to read. As they are only 4, 5 and 6. I remember my early teen years the computer was way more important then anything else expessially the TV. LOL. My kids love to be outdoors riding and playing just it depends on weather and everything else. :) Thank you for your response.

• United States
29 Apr 09
I haven't really kept close track and added up how much they actually watch a day. The tv is on all day in our house too, but a lot of the time it is just for background noise. My kids will watch a few minutes here and there if something catches their attention while they are playing but they don't really sit down for a long period of time and watch anything. Unless they ask for a movie and even then they don't always make it through the whole thing. I figure as long as they get time outside and doing other things that it is ok.

• United States
29 Apr 09
That is exactly how my children are. They cant sit for more then maybe 20 minutes before they are up and running around playing in their rooms. We use our tv mostly for background noise as well. I'm glad I'm not the only one who has it on all day long. :) Thank you for your response.

• Trinidad And Tobago
30 Apr 09
24 hours,, u no why,, if I say 2 hours they like 4 hours,, If I allow 5 hours ,,They like 7 hours,,so I say whole day ,, and they get tired in 2 hours,, or at the most it's 3 hours