End of Grade Testing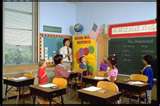 United States
May 13, 2009 12:08pm CST
My niece is a third grader and facing her first end of grade test. These test determine if she passes to forth grade. She did not do well at any of the previous practice test. I have been working with her almost every day including weekends for several months now. I am beginning to think just maybe she is not ready to move on to the next grade. I just don't know any more and its about to get the best of me. I have started to second guess myself and maybe I am pushing too hard...or maybe not hard enough. Her classroom grades are fine and she has been on the a/b Honer Roll all rear. Any thoughts?
3 responses

• United States
13 May 09
I think these end of year tests are a crock of ++++ well you know. Anyway, the teachers have to prepare them for these tests because that is what the money to the school is based on. Hopefully they will do well. I think these tests are unfair to the students and don't reflect the students real academic levels. Like another person said if your child does well academically the school should let them pass the grade. Even though the school doesn't they should. Passing shouldn't be based on one test at the end of the year.

• United States
14 May 09
I so agree! They spend so much time on how to take the tests, test strategies, how to fill in those little dots on the answer sheets, practice test on and on. I believe that's enough to build up test anxiety in me.

• United States
13 May 09
How is it that she is doing well academically, but is not able to test out? That doesn't make sense. If she is getting A's and B's, there is no reason she should not be able to pass on. Maybe she has anxiety with her tests. Or possibly try Sylvian learning center. Maybe she learns differently than how she is being taught.

• United States
14 May 09
that's exactly what I asked the teacher! During mid of year her attitude was that she didn't think she was in any danger of not passing and kept telling me not to worry about the tests. When I ask her this last time she said the kids can get help with everyday schoolwork and they can't on the tests. I think u have something with the learns differently. I think they don't spend enough time on one thing before they move on, so she might get it or at least a little but never gets practice with it. idk thanks for the reply

• United States
14 May 09
Yes, my idea is that she has test anxiety, and it is not helping her any to have to practice constantly. If she has had good class room grades and has done well all year then she should do fine. She needs to know absolutely that good grades do not mean she is a good person, and also that she will always be special and important to you.

• United States
16 May 09
oh, yea! You are so right and I have told her that. I have said all the stuff about nobody is perfect, some people are good at some things and others good at other things, either way I love her no matter what, I always make a big deal when she learns something she's been trying to get, She gets lots of love. I just wish I could help her more... thanks for responding

• United States
19 Jun 09
I wanted to tell yall she passed her end of grade test the first time!!!! When she told me in the car on the way home I cried, she did too, happy cry. I had to pull over and we hopped around in our seats and hugged and cried and laughed. Such a huge weight lifted off our weakened shoulders. least for now anyways!