Karate Kid part 5? What do you think?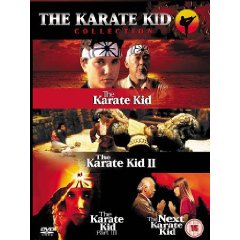 Philippines
May 14, 2009 9:19am CST
The Karate Kid The Karate Kid part 2 The Karate Kid part 3 The Next Karate Kid Would you think they would make another one? I personally think without Mr Miyagi (Pat Morita), it would be a flop. But for the fans, at least Ralph Macchio should be in it.
2 responses

• Philippines
16 May 09
Well, when the first Karate Kid was shown... Mr. Miyagi was not a young man... so it will be quite understood when he is no longer around for the 5th part... and his role should go to his best student... and that is Daniel San... i hope he will play that role... and not just a cameo thing...

• Philippines
17 May 09
your right. although mr miyagi is what made the movie, i think his departure from the film would be understood by many fans. i hope daniel returns as a mentor this time . i think the cobra kai should returntoo with the original mentor. he's not too old right now afaik.

• United States
14 May 09
Well, I have seen all the Karate Kid movies. Even the one with Hillary Swank in it. Can you believe she went from The Next Karate Kid to winning two Oscars? Anyway, at first I read your post and thought, no, no more karate kid movies. But you know, maybe they have something. Sure, the wonderful Pat Morita would be gone, but Ralph Macchio's character could come back kind of like the mentor to the new karate kid. I just don't know. These days all the remakes seem to be pretty bad.