Wall-e, Best animated film of 2008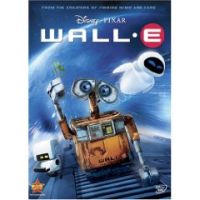 Philippines
May 15, 2009 11:33am CST
The best animated movie of 2008! Yes, that's WALL-E! The first time I saw the trailer of this movie, I thought it was an animated replica of E.T. because Wall-E looks like E.T. But it was completely different. The story was awesome, with adventure, love story and have lessons to learn not just for kids but also for adults. It's the best family movie made last year, for me. Also, Wall-E is so cute in this movie and putting together with Eve was extremely cute for robots to fell in love at each other. The quality of sound effects and cinematics makes this a movie to watch. For families who haven't seen this movie, I recommend this movie to all of you. The best animated movie of 2008. You'll love it, as me and my son love it. We've seen this movie almost hundred of times. My son just simply love it, and will be your children too.
3 responses

• United States
15 May 09
Agreed, Wall-e is a wonderful movie! I remember when it came out I went to watch Wall-e for kicks, but I had really meant to go and watch Wanted. It surprised me that Wall-e was lightyears better than Wanted and I found myself raving about it more than any other movie I had watched before that. Hands down I think it's the second best "mainstream" movie I had seen in 2008 (number one is of course The Dark Knight). Have you seen the trailer for Up? I think it's going to be very entertaining as well. Can't wait to go see it in 3D with my roommates soon. Yay!

• Philippines
9 Sep 11
This is one of the best animated films for me aside from happy feet and ice age. The moral lesson of story is really great. This film makes me cry because of the lessons. I hope they will create more movies just like wall-e.

• United States
10 Sep 10
With all its depth of love, commitment, and relationships, WALL-E is the best movie of 2008, therefore, it's the best movie MADE BY ANIMATION! It really defied the sterotypes of film made by animation. Ben Burtt (a genuis behind the Star Wars sound design) did such an expressive job on the characters. For me, it's superficial to say that WALL-E and EVE are cute. It matters to me that the characters are lovable and you will root for them. Animation is NOT a genre, it is a media of art.