Wow,Nomincashout forbid me post in the forum!!!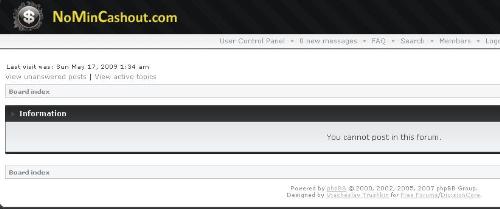 China
May 17, 2009 12:22am CST
i got first payment from Nomincashout is $3.98 on April 5,i made the second payment $3.17 on April 10,now my third payment is $6.06.but my second payment they still don't pay .more than one month since i made my second payment.now it said "payment for paid member". well,when i tried to login forum to ask why.it said "you can not post in this forum" .who knows what Nomincashout wants to do?i didn't do any wrong things in nomincashout.it become scam for some poeople they don't want to pay? how do you think,my lotters.
1 response

• United States
23 May 09
Forums are split up section. The term forum does not mean http://nmcforum.com/ the sections with in such as News And Anouncements, General Chat Forum, Support are actually the forum it's self. You weren't allowed to post that topic because you were trying to post in the incorrect are(news and announcments) which is not allowed for members. Only the admin has the ability to post there. You should have posted int he correct forum section next time.

• United States
24 May 09
he gets so many messages like that a day. They are just annoying. I waited 90 days for my alertpay payment. I'm sure you could wait too.